Whistler 2462, 2463
Author: Blue Horizon
We now enter into the official Beta 2 stage of development. These are the last two builds to be called Whistler before they rebrand it.
BUILD 2462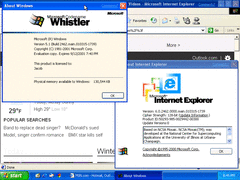 (PNG)
This build isn't too different from previous builds, but this is the recommended build to install since it appears to be the most stable.
BUILD 2463
This build on the other hand, by deafult, is completley corrupt. You have to copy "DRIVER.CAB" from this build to the previous one.
Then you have to extract the following into the i386 folder:
ntkrpamp.exe
ntdll.dll
ntkrnlmp.exe
ntoskrnl.exe
Then, and only then, will you be able to install this build.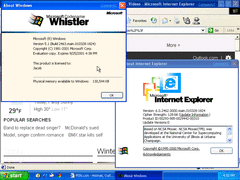 (PNG)
Because of this, certain programs like IE display "2462" rather than "2463".
It isn't recommended that you install this build if you want to challenge yourself to use it as a daily OS.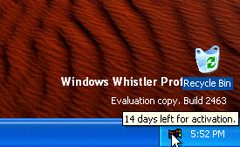 (PNG)
And I just happened to come across this as well. It prominently shows this icon in the system tray telling you how much time is left to "activate" Windows. Clicking the icon takes you to the activation dialog.