Whistler 2454, 2457, 2458
Author: Blue Horizon
BUILD 2454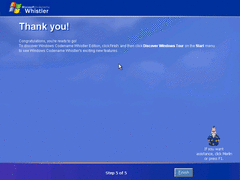 (PNG)
Nothing much to say. To install this build you need to upgrade from a previous build since the ISO isn't bootable. And no, running winnt.exe from your Win9x boot disk doesn't work as it gets stuck on the file copy portion of setup.
I do find it interesting that the final step of the OOBE mentions "Discover Windows Tour", but we'll have to see that in a later build to get it, as it is not present in the Start menu or anywhere on the drive other than that prototype "tour" I demonstrated in build 2419.
BUILD 2457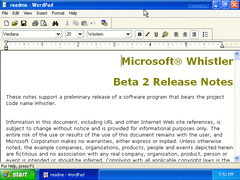 (PNG)
Once again, nothing new. Although this is the build I recommend installing since it seems to be the most stable out of the three. They locked the taskbar and disabled quick launch again and the Luna theme appears to be taking shape.
BUILD 2458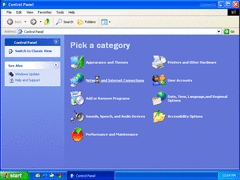 (PNG)
Okay, so the taskbar is now back the way it was before.
However, after setting up this build, it will BSOD on bootup. To fix it, you need to replace NULL.SYS with NDIS.SYS.
Sadly, any program that attempts to use the internet will lock the system up requiring a hard reset.