Whistler 2410

Author: gv3u

First leaked Pre-Beta 2 build. Also first build to feature a working OOBE (not by default): https://www.youtube.com/watch?v=73qqp8lq1Cs

To launch the OOBE, use sysprep (msoobe /f does nothing)

Author: Blue Horizon

After a long vacation, here is the first 24xx build. We are now in the Beta 2 stage at this point, and there's a lot of new things to cover. So let's start.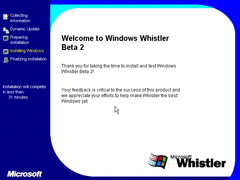 (PNG)
During setup, it now identifies itself as Beta 2 of Whistler.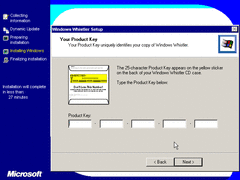 (PNG)
This build now requires you to enter a product key, previous builds did not. I find it silly that they require a product key for a beta since they put a timebomb and specific date when this build is not installable after that period. Of course, changing the date in the computer's BIOS always fixes that issue.
Perhaps this is supposed to test the "activation" fluff that they we're working on. But that's for another time.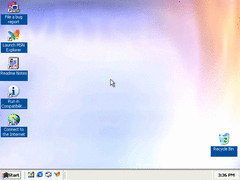 (PNG)
Lots of things to comment about the desktop.
The Recycle Bin is now located at the bottom right corner, and it has a new icon as well.
Windows Media Player is no longer on the desktop or quick launch toolbar.
MSN Explorer is now dominant on the desktop and quick launch. (yuck)
The "Run in Compatibility Mode" icon has been changed.
Also, at this point, the recycle bin icon looks like a plastic bag you would find at a super market, and it has handles.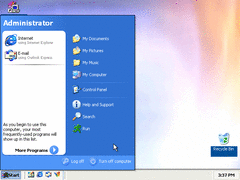 (PNG)
The start menu also has the icons like in the final version. But the "Run" icon is kind of a joke.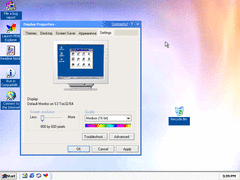 (PNG)
One odd thing about this build is that it refuses to let you choose a resolution lower than 800 * 600. On monitors that for some reason can't do 800 * 600 or higher, it will just be 640 * 480.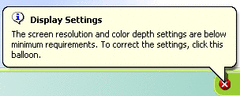 (PNG)
And here's another example of Microsoft abusing their OS monopoly. If you're running at a resolution of 640 * 480, the OS will stick it's nose up and nag you to upscale your resolution.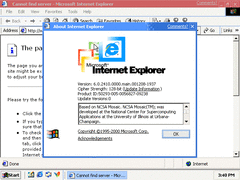 (PNG)
IE has been "upgraded" to version 6, a version so infamous it became a cesspool of more security holes than Swiss cheese, spyware, and malware. And for some reason IE 6 refuses to view google.com even after changing some settings.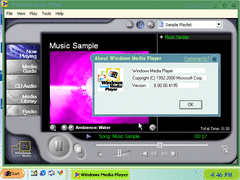 (PNG)
Media Player has been updated to version 8, although it is still the same UI as version 7.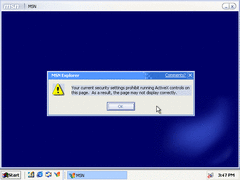 (PNG)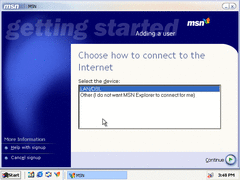 (PNG)
No comment, MSN Explorer is way too dead to comment on.
(PNG)
Paint can now save pictures in more formats, most nobably the PNG format.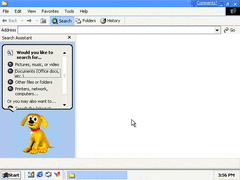 (PNG)
I think I need to bang my head against the wall now. This is Rover Retriever in case you don't remember. He was the deafult character of a commercial flop known as "Microsoft BOB".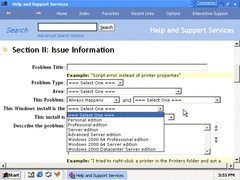 (PNG)
Here's something I found interesting, they mention Windows 2000 64-bit edition in Help and Support. I wonder why that version of Windows 2000 hasn't surfaced on the internet yet... Also, the bootscreen going around about Windows 2000 x64 is presumably fake, as the number 64 looks like it was drawn in MS Paint using the spray can tool.
Plus, I've used XP SP2 x64, and it was a pretty mediocre experience.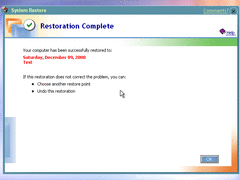 (PNG)
The System Restore is now in the start menu and it actually works.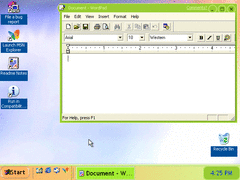 (PNG)
This build now has two new themes, "Chartreuse Mongoose" and "Blue Lagoon". They are kind of a bubbly type of theme. And I assume this was made to test out the "Luna" theme later on. But at least it makes it easier for MS to change the theme in a future release of Windows so consumers will drool and stare at the same old thing, thinking it is something different.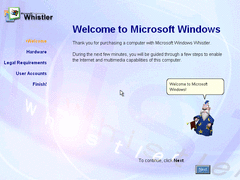 (PNG)
And finally, here's the new OOBE. To launch it, you have to browse to D:\SUPPORT\TOOLS\DEPLOY.CAB and extract all the files from that CAB file. Then simply run sysprep.exe and make sure to check "MSOobe".
The OOBE now features Merlin the wizard (another "cute" character) to help you guide through the OOBE.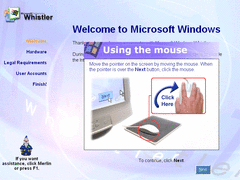 (PNG)
At least the mouse tutorial is somewhat useful now.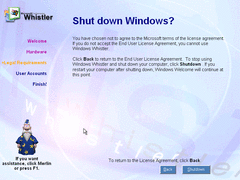 (PNG)
If you refuse to accept the license agreement, you are forced to shutdown your computer.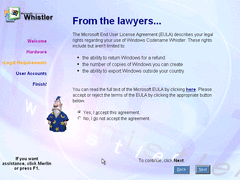 (PNG)
Otherwise, just click Back and accept the agreement you most likley won't read and continue on.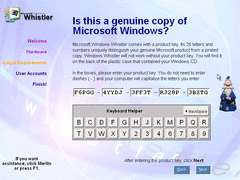 (PNG)
There's now a "new" way to enter your product key. I assume this was made for tablet touchscreen devices that do not have a keyboard or a port to plug in one.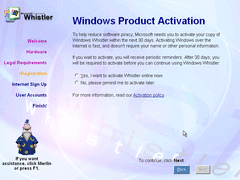 (PNG)
Oh boy, this evil thing. We will tear this thing appart at a later build.
(PNG)
And finally, finishing the OOBE setup.
In conclusion, Microsoft did a nice job trying to merge the things you would expect from Windows 9x/ME into the Windows NT kernel. Of course, this is still far from the finished product. Stay tunned for more mis-features and bloatware.