Whistler 2211
Author: Blue Horizon
Windows Whistler 2211 was compiled well over a month after 2202, so naturally it should have many new things, right? Well let's have a look.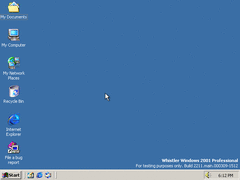 (PNG)
The desktop now has a "File a bug report" icon. Opening it takes you to a Help and Support page that is also in Windows ME and Neptune.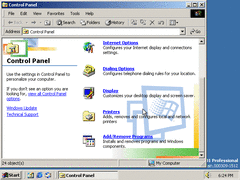 (PNG)
The Control Panel now has the layout similar to that in Windows ME. Although this build pre-dates Windows ME's final build (4.90.3000) by 3 months.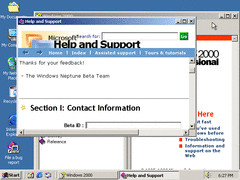 (PNG)
Windows Whistler now has TWO help programs. The webby one from Windows ME, and the traditional one from Windows 2000. The Windows 2000 one can be launched by clicking Start > Help.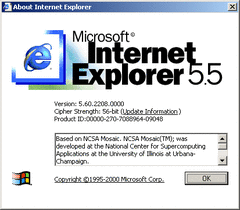 (PNG)
IE's version number has been updated to 5.6. Not that anyone would care cause a smart person would install Netscape or Mozilla, not a browser that adds a load of bugs to your OS.
Supposedly there is a new logon screen hidden in this build, but that's for another time.
Author: gv3u
The Windows ME-like help system from this build has an interesting phrase "The Windows Neptune Beta Team," and the bug report saves its logs to C:\neptune_logs (builds from 2250 onwards save logs to C:\Whistler_logs) implying it was carried over from a build of Neptune.