eTower 600is
Author: Anonymous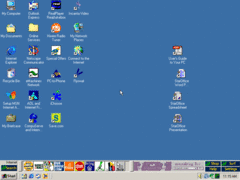 (PNG)
This is the eMachines eTower 600is. One of the first eTowers that I've obtained that has had Windows ME on it. This is the desktop of it. At first glance you can notice that there's no wallpaper selected. That is highly unusual for practically any OEM PC. Let's jump right in shall we?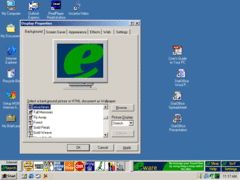 (PNG)
The eMachines wallpaper is there but it wasn't selected by default unlike all the other eMachines PCs. Its a weird sight. Don't know what happened.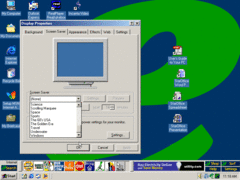 (PNG)
No OEM screensavers as usual. Compaq is about one of the only OEMs I've ever seen with a custom screensaver. Let's move on.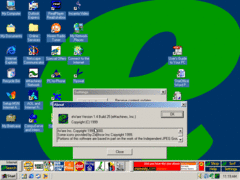 (PNG)
As seen in previous eMachines PCs the eWare toolbar is here. This model has version 1.4 build 25. Its slightly newer than the one on the eTower 566i. Its also a bit more newer than the one on the eMonster 550. Let's move on.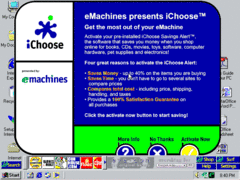 (PNG)
This picture is from yesterday when I was testing out the cracked disk (before installation of VMware Tools). When I for the first time reached the desktop I got this one-time message that I've never seen on any other eMachines PC before. Looks highly nostalgic. On further investigation it appeared that this was the very first model to have iChoose ACTUALLY INSTALLED instead of just bundling the setup file and having them open it up if they actually wanted it installed. None the less its still unusable as it still requires a connection to the internet HOWEVER this allows for further investigation of just how iChoose works AND what options people had back then when iChoose existed. As previously stated performing research on iChoose brings up nothing so this is lost 90's history.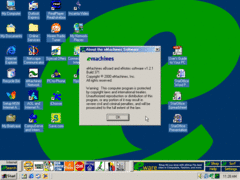 (PNG)
We haven't checked the versions of eBoard in awhile. This eBoard software seems to be a bit newer...enough to the fact that it was renamed to "eMachines eBoard and eNotes software". Not to mention that the notifications/alerts were renamed to eNotes. I guess its nice somewhat. Let's move on.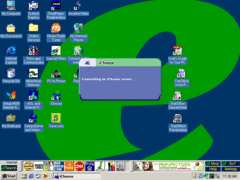 (PNG)
As previously mentioned iChoose IS actually installed on this model. Launching it brings up a new icon in the taskbar along with this nice little dialog. Looks like a 2000's dialog if you ask me. Looks futuristic.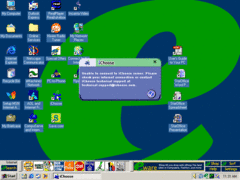 (PNG)
Of course though like with actually trying to install it you get this error dialog. Now why a setup file requires a connection to a server I couldn't tell you.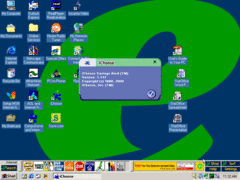 (PNG)
Even though the error message popped up...clicking "Ok" doesn't exit the application. The application still runs but the shortcut says "iChoose Not Connected". You are also fairly limited on options that you can pick from in the taskbar. Anyways, this is iChoose version 1.117 with the latest copyright going to 2000 and the earliest going to 1999.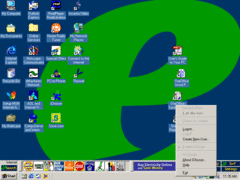 (PNG)
These are all the options you see in the taskbar. The "More Info" that I actually did click on but didn't take a picture of said that iChoose was free software which probably explains why eMachines bundled it in the first place (they were cheap when it came to software for awhile).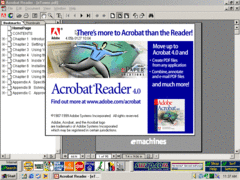 (PNG)
Of course like with previous eMachines PCs this comes with Adobe Acrobat Reader. This one has 4.0 (or to be more precise 4.05b).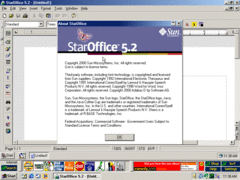 (PNG)
This eMachines PC comes with StarOffice 5.2 by Sun Microsystems (before they became Java).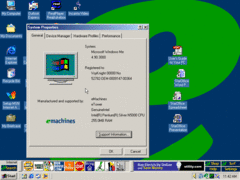 (PNG)
Well that's pretty much all there is to it with this model. I'll see you in the next OEM review!