Memphis 1353, 1387
Author: Blue Horizon
BUILD 1353
This build isn't too different from 1351 being compiled just 8 days afterwards, but there's still some minor differences to talk about.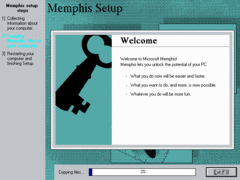 The dialogue in the setup slides are slightly different. Some typos are fixed, some parts are worded differently, the text is repositioned on some slides, and some slides are left the same altogether.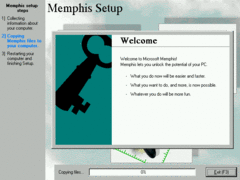 It wouldn't be complete if I didn't show high color variants of the slides.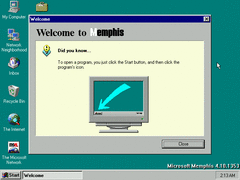 (PNG)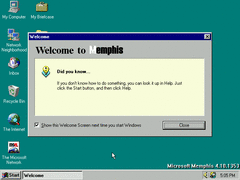 (PNG)
In this build, the welcome window does in fact change on subsequent logins - now displaying a checkbox if the user wants the window to start upon logging in. Although, the buttons on the right hand side are still absent.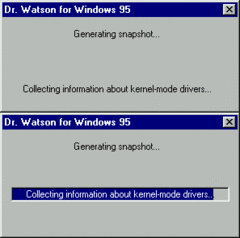 (PNG)
(Top: build 1351, Bottom: build 1353)
When summoning Dr. Watson to generate a snapshot, a progress bar is now present.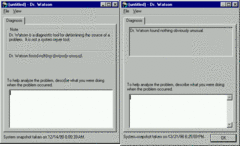 (PNG)
(Left: 1351, Right: 1353)
The note at the top of the window in this build is removed for whatever reason.
The release notes have also been updated in this build, so here's a ZIP containing the documents:
BUILD 1387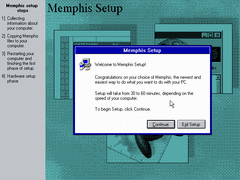 (PNG)
We're now at the last build of the publicly available pre-beta builds. Right away just from looking at it, a 4th step has been added to the sidebar list on the left mentioning the hardware setup phase, although the sidebar doesn't actually appear during the 2nd part of setup yet. The 3rd step has also been renamed as well, along with the background graphic slightly being repositioned.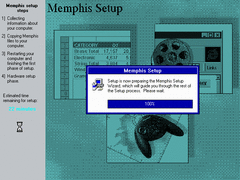 (PNG)
An ETA is now present in setup for the first time here. Although here the ETA only counts the first part of setup presumably since the other part of setup doesn't have a sidebar as stated before.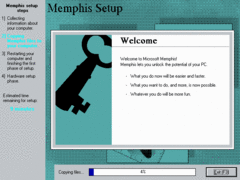 Most of the slides are still the same with mostly just synonyms replacing certain words.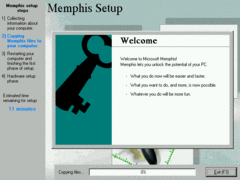 And of course, here are the high color variants.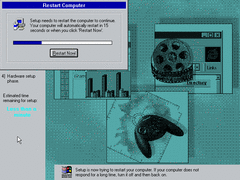 (PNG)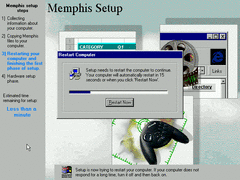 (PNG)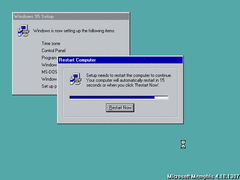 (PNG)
At the end of each stage, a 15 second timer to restart the machine is now present just like in the final build and about every future Windows 9x build since. This alone is a welcomed change to those who do unattended installations on a large scale - and a lot easier for users to create unattended installations if they aren't too experienced with managing INFs.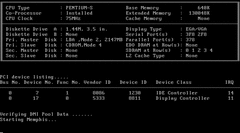 (PNG)
Starting Windows 95... has been changed to Starting Memphis....
Now onto the desktop, a good place to start off with is the new animations for menus and tooltips. This was first featured in Nashville, and was later brought over to Memphis in this build.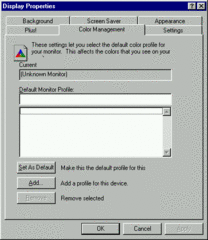 (PNG)
Color management has been added to the display properties panel which allows multiple profiles for your monitor - affecting the colors on screen. This allows the colors used by one machine to match the colors used by other programs and devices on multiple machines including the host.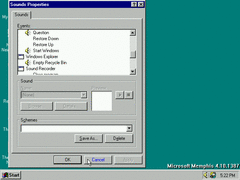 (PNG)
The Select event is absent in this build as well as the sound effect. Although if you're upgrading from a previous build of Memphis (or maybe Nashville), the sound event carries over.
Speaking of Nashville, buttons are now highlighted in a different color when hovering over them.

(PNG)

(PNG)
(upscaled 8x)
For some reason - only exclusive to 16 color mode, hovering over a selected button also adds blue pixels inbetween the black ones. But because the pixels are so tiny and close to each other it gives off the illusion that its all highlighted in one color. Of course, being that one of the colors is currently blue, it would be easier to see the individual pixels by choosing a different and brighter color.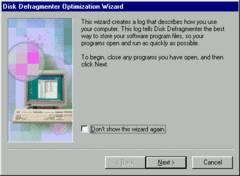 Also new in this build is an updated app logging program. As the wizard suggests, it also involves disk defragging for more optimized handling of launching and running programs.
And here's the actual logging program in action with four preselected programs.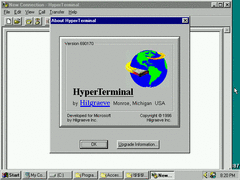 (PNG)
An updated version of HyperTerminal is also included with this build.

(PNG)
When a program crashes, a progress bar is now present providing information just like in Dr. Watson. I don't know whether or not this is present in build 1353.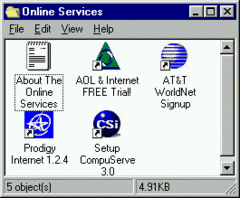 (PNG)
Prodigy is now an included option for online services in Memphis.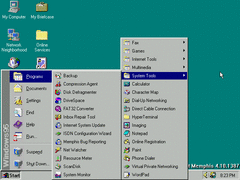 (PNG)
Moving on to the start menu, there's some more shortcuts in system tools - as well as another one in accessories.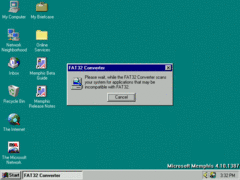 Among these tools is a utility for converting FAT16 partitions to FAT32, which is useful if you want to have a storage medium larger than 2 GB.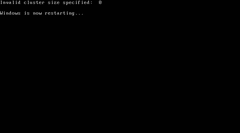 (PNG)
Well, once they fully develop it, that is...
(PNG)
The other two shortcuts are ISDN Configuration Wizard and Virtual Private Networking, which just so happens that both point to the exact same executable.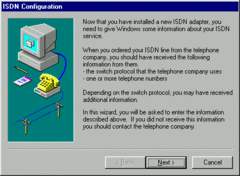 The wizard executable itself is also pretty self explanatory. You just select the protocol the telephone company uses and enter in a number and SPID.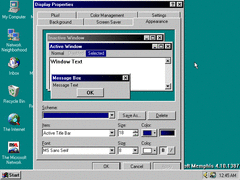 (PNG)
I found this out by complete accident at the last minute; this build has gradient title bars! The extra button (later to be named "Color 2" above the button) only shows up if you have the title bar item options selected, which is probably why many testers didn't stumble across this feature - let alone document it publicly. Either way, I'm glad I caught this before I finished scripting this review.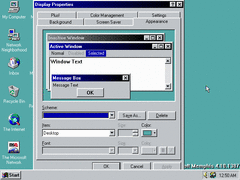 (PNG)
And yes, gradient title bars are present in 16 colors, as well as 256 colors. It's of course dithered doing it this way, but its something you aren't able to do in much later builds of Windows, at least presumably without hacking.
And thus concludes the leaked Memphis pre-beta trilogy. Stay tuned for more coverage and get ready for some subpar web integration and other oddities to come
Author: Kugee
The button highlighting is controlled by another desktop appearance attribute called "Mouse Highlight". This feature can be effectively disabled by setting the highlight color to match the normal text color.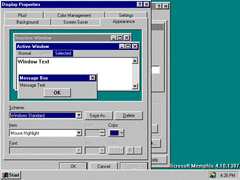 (PNG)
While trying to set up a multi-monitor configuration in 1387, I found this updated message not present in 1351, with the new line "Please report all videos problems you have to ToddLa", who I can only assume was in charge of programming multi-monitor support in Memphis. It's possible this message also exists in other builds within this range.