Memphis 1351
Author: Kugee
I may as well take some screenshots of the raw footage I made for Hardcore Memphis and put them here, after a couple days of exhausting reorganization.
Here's the setup screen for build 1351, the first leaked Windows 98 pre-release build. It looks like a combination of the Windows 95 and 98 setup screens in some way, with the left sidebar displaying the setup steps and a "Memphis Setup" title in the upper-left corner of the background.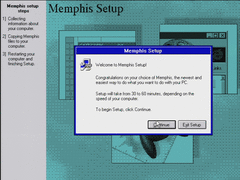 (PNG)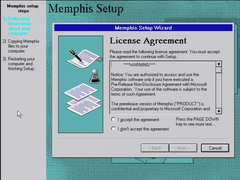 (PNG)
Supposedly, there is a Memphis tour included in this build; I haven't bothered to check if it's any different from the Windows 95 tour.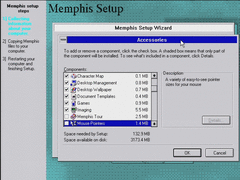 (PNG)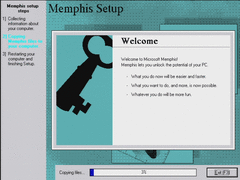 (PNG)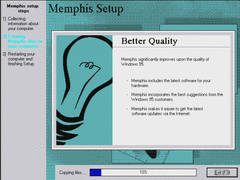 (PNG)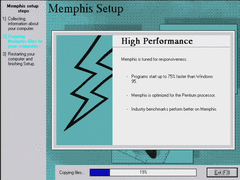 (PNG)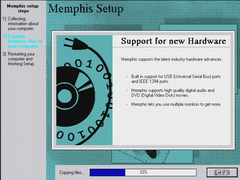 (PNG)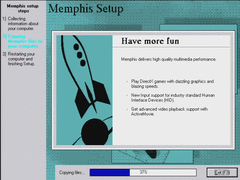 (PNG)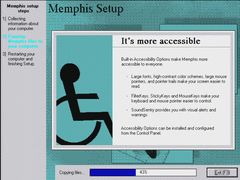 (PNG)
This card has a typo.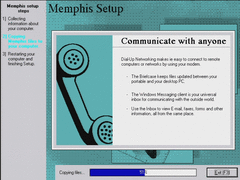 (PNG)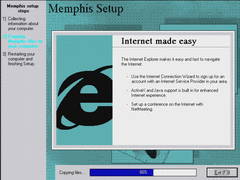 (PNG)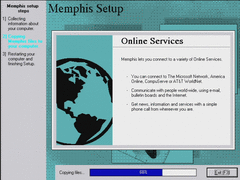 (PNG)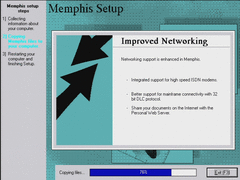 (PNG)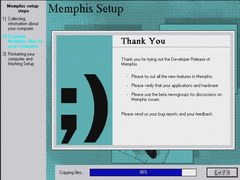 (PNG)
A quick and dirty edit of the "Starting Windows 95 for the first time" screen used in this build. Taken from my camera since these were recorded on real hardware, and the 70Hz display mode doesn't play well with my Game Broadcaster HD.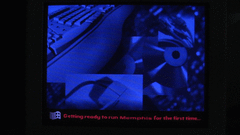 (PNG)
If Memphis is restarted mid-installation, the Windows 95 splash screen (probably part of IO.SYS) is used instead of the Memphis splash.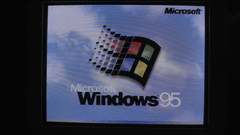 (PNG)
If the date is set too far ahead in time, Memphis will break itself to stop booting in the future, and will shut down the computer. It is advised to set the BIOS clock to sometime in Q1 1997 or earlier. (edited)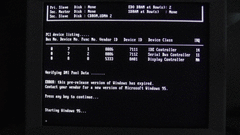 (PNG)
In early builds, Memphis often reports itself as Windows 95.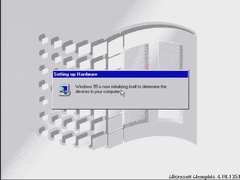 (PNG)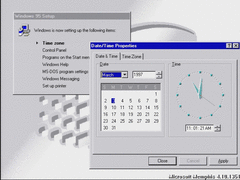 (PNG)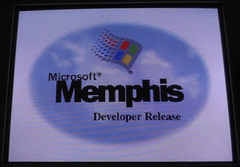 (PNG)
The side buttons on the welcome window were removed here.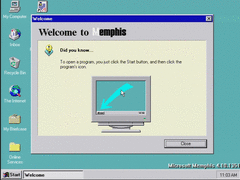 (PNG)
Dr. Watson is loaded into the taskbar, often useful for diagnostics in prerelease builds.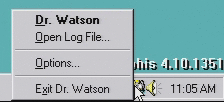 (PNG)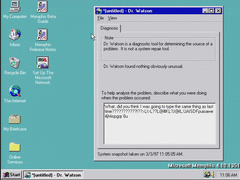 (PNG)
Don't know why this wouldn't render properly, I'm sure it's a WordPad or RTF document...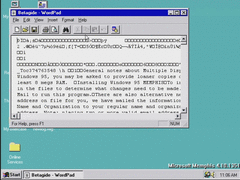 (PNG)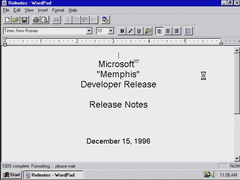 (PNG)
A red screen of death! This occurred in the second part of Setup when I tried installing this build on an Asus P2B-LS, which has ACPI support. I couldn't figure out how to force Memphis to ignore ACPI here. When installing early Memphis builds on real hardware, I strongly recommend using a computer that doesn't have ACPI as such builds have not reliably implemented ACPI at that point. Note that early ATX computers from 1995-1998 that have soft power switching may not necessarily have ACPI.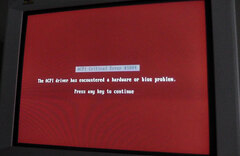 Interestingly enough, this build, along with maybe a few others, automatically searches subdirectories for drivers during installation. This feature is not present in Windows 95 RTM/OSR2 or Windows 98, but I think Windows ME has it.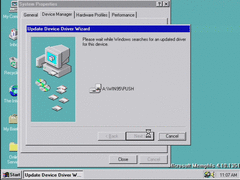 (PNG)
Start menu still says "Windows 95".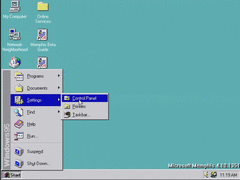 (PNG)
Power control panel is similar to Windows 95B.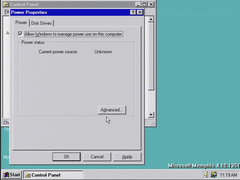 (PNG)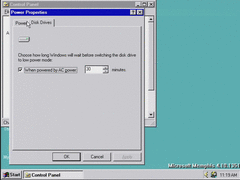 (PNG)
Much the same, actually.
Memphis 1351's startup sound attempts to point to a nonexistent file mssound.wav, which is The Microsoft Sound.wav but conforming to the MS-DOS 8.3 character limit.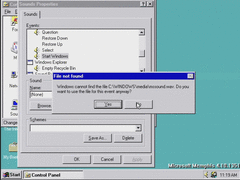 (PNG)
Window design is much the same as in Windows 95. The only clear difference in this build's Explorer seems to be the addition of a click sound that plays when you click somewhere in Explorer. Windows 98 has a similar click sound, but it's limited to clicking on links, opening folders.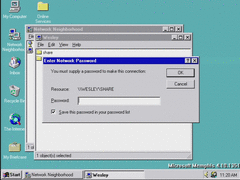 (PNG)
Advanced Display Properties replaces the "Change Display Type" button in Windows 95A. This feature is also present in Windows 95B and 98.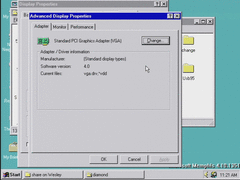 (PNG)
With new video drivers installed, you can see Memphis includes the desktop enhancements offered in Microsoft Plus! for Windows 95.
(PNG)
The welcome screen never changes on subsequent logins.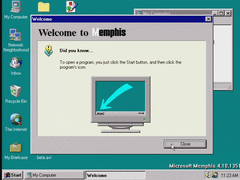 (PNG)
System Properties window. The key was removed using Photoshop, although this build, like most others, doesn't prompt for a key during Setup.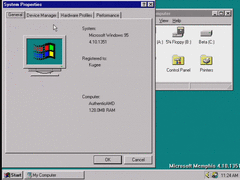 (PNG)
Memphis 1351 has USB support, but I never bothered to test it. You might be able to get away with using a generic USB mass storage driver for Windows 95 offered on Toastytech.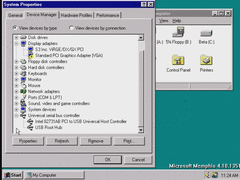 (PNG)
Were these options available in Windows 95B with the USB supplement? I don't recall seeing them there.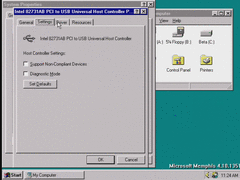 (PNG)
When two monitors are installed, early Memphis builds don't integrate the monitor layout and settings in one window. Instead, you have to click on the adapter you want to change the settings for, and click the Settings button to open a new window.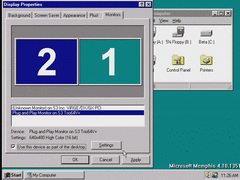 (PNG)
Each adapter can have different color depths. Having one monitor set to 256 colors and another to 16-bit color yields interesting results, like being able to see high-color icons from COOL.DLL affected by the limited active color pallete.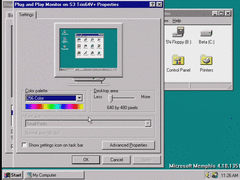 (PNG)
Since synchronizing two separate recordings is a bit cumbersome, I'm taking the following screenshots directly from the finished Hardcore Memphis video.

(PNG)
Multi-monitor support in early Memphis builds is limited to a few adapters, mainly S3 Trio64 and Virge as tested here.

(PNG)
Dragging a video from one monitor to the other as it's playing leaves a "ghost" image behind. I suspect this largely has to do with the player spontaneously readjusting itself to work with the new color depth it's been thrown into. (Case in point: when Windows 3.1 tries to display a 16-bit 1024x768 wallpaper in a 256 color mode, it takes forever to convert on a Pentium 133.)

(PNG)
Installing additional Windows components.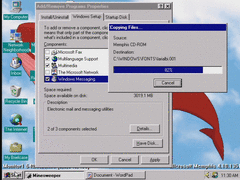 (PNG)
Windows Messaging bugged out in this build, not sure if this is a new version that was unstable or I just did something wrong.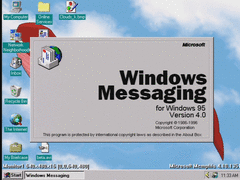 (PNG)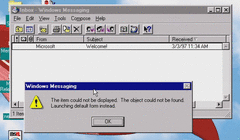 (PNG)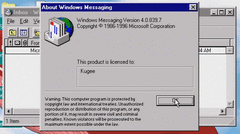 (PNG)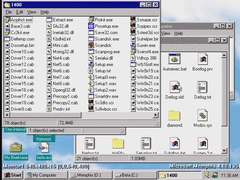 (PNG)
It's good practice to copy the installation files to a folder on the hard drive in case Setup fails to recognize the CD-ROM.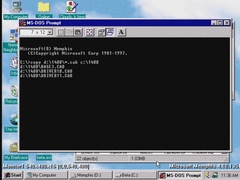 (PNG)
Memphis 1351 booting on real hardware, an AMD K6 200MHz, including an audio recording of the inside of the computer and its hard drive clicking away! Sometimes some video cards are able to display this non-standard mode on my capture card, but more often not. I should get an Elgato HD60 Pro and an upscaler someday, I hear BaudBand (https://www.youtube.com/channel/UCx1MsuF3CaX8b40cka6nseA) is able to capture text display modes with them quite easily.
LOGOW.SYS, the shutting down screen. LOGOS.SYS is the same as in Windows 95. Of course, in the actual recording, I moved straight to build 1400.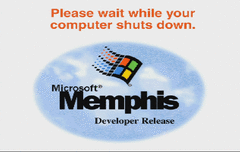 (PNG)
That's about it for this build, at least on my end. I'm not calling this page complete, as there are probably a good handful of other things I skipped in this build software-wise. The main idea I had in mind when recording footage of these Memphis builds was largely to demonstrate their hardware capabilities. To see a video of this build and six others in action, you can watch this super long video: https://www.youtube.com/watch?v=hWV6VfDLLa4
Author: Blue Horizon
It's finally time to cover the leaked Memphis trilogy in its entirety. For these reviews, I'll mostly take a look at the stuff Kugee skipped over in the builds he reviewed while also still providing cleaner screenshots where I felt they needed improving from Kugee's end.
These early builds have added relatively minor touches or enhancements since Windows 95 with only a couple note-worthy additions such as multi-monitor capability and broader hardware support. But regardless as early as the builds are, there are bound to be changes.
(PNG)
Right off the bat, the setup has gained a visual overhaul - now having a sidebar to the left that keeps track of the progress you've made during setup, as well as a new background. The text on the welcome window is also not bold anymore save for the title bars.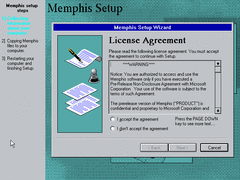 (PNG)
Nothing particularly special here, but the license agreement is now part of the wizard itself rather than being in a whole separate window.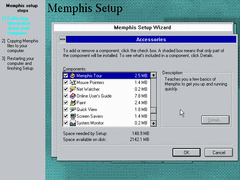 (PNG)
During Kugee's review of this build, he mentioned that there's supposedly a new tour dedicated to Memphis. It could just be called that for keeping the codename consistent with the OS, but we'll find out later on.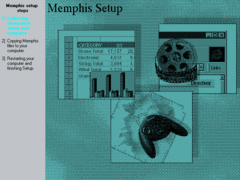 (PNG)
As always, here's what the setup background looks like.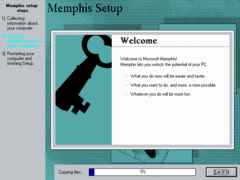 The copying files portion remains mostly the same as Windows 95, now with different graphics and dialogue for the slides.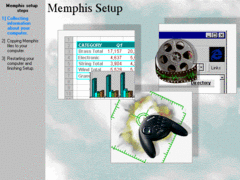 (PNG)
Just for completeness sake, here's what the setup background looks like in high color mode.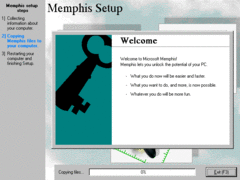 And now the copying files portion in high color mode.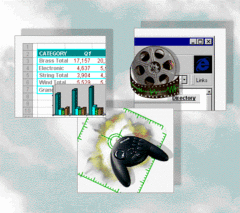 (PNG)
And here's the full background image as well.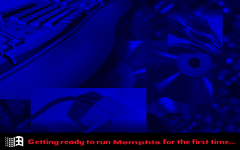 (PNG)
The "first time" boot screen clearly has the word "Memphis" placed over the old "Windows 95" text with a different font chosen in place. It almost doesn't look authentic here.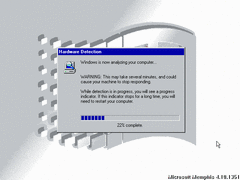 (PNG)
The 2nd part of setup now displays a new window in which it analyzes the computer hardware like in the final build, only here the dialogue is a bit different.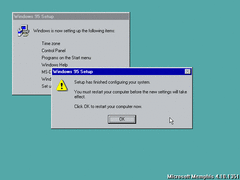 (PNG)
I should also point out that after setup is complete, you have to manually set the color depth higher since setup doesn't automatically do it like 95 did for whatever reason - but only if you're doing a fresh install as opposed to upgrading from a previous build.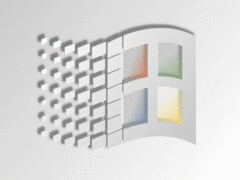 (PNG)
The background in the second part of setup is also changed, and is even present as late as Windows ME - though not actually used during setup.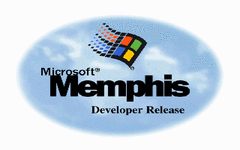 (PNG)
The boot screen is entirely different this time around, as the logo in the clouds is in a circle that is encompassed by an outer white background. And just below the logo, it says "Developer Release" obviously indicating this is intended for testers.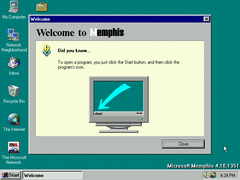 (PNG)
The welcome message in this build compared to 95's is much different as the five buttons next to the tip box are gone, as well as the checkbox used for running the message upon logging in.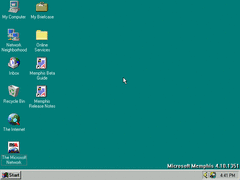 (PNG)
The desktop remains just about the same as Windows 95 with the addition of the more colorful icons from the Plus! 95 pack, along with two shortcuts to two documents. Besides the fact that the high color icons from Plus! are present here, it doesn't have the additional desktop themes yet at this point.
In case you're curious, here's just about every release notes document present in this build. Some documents with identical names is given a _CD abbreviation at the end to identify that it comes from the CD itself.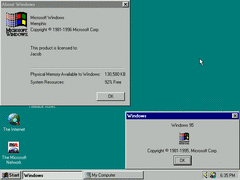 (PNG)
If you couldn't already tell, some parts of the system still say "Windows 95" - which for an early build is to be expected.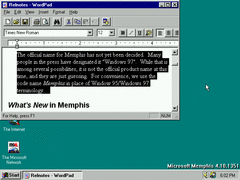 (PNG)
Also, in the release notes for this build, they mention "Windows 97" is not an official name for Memphis. There's also a missing "s" at the end of "Window".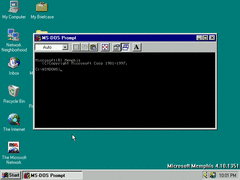 (PNG)
DOS prompt also reports the year as 1997, supposedly because the new year was just around the corner when this build was compiled.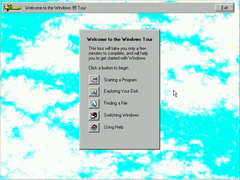 (PNG)
Checked to see if the tour was any different from 95, and it isn't.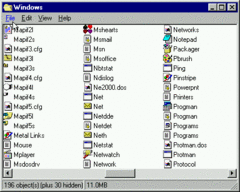 Certain buttons within the interface are highlighted when hovering over them, although not everything is highlighted when moused over it like how it is in Nashville.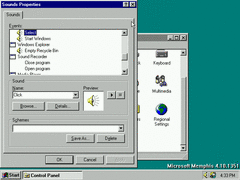 (PNG)
There's a new sound event whenever you "select" something. This is also in Nashville as well, although I won't actually show it off here since Nashville did it first already.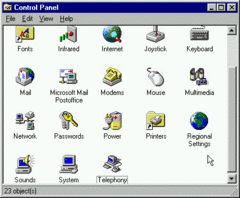 (PNG)
Control panel includes two new applets (or technically one as the former can be added to 95), infrared and telephony. The latter of which is used for managing phone numbers.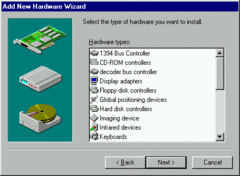 As said previously, Memphis has broader support for more hardware - and this is further revealed with a few new options in the hardware wizard.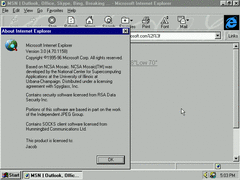 (PNG)
IE is still the same version as it was in 95 OSR2, though this browser will turn into Mr. Hyde soon enough later down the road.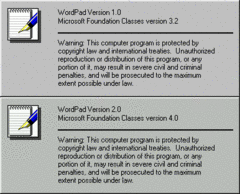 (PNG)
WordPad on the other hand, is given a slight upgrade (Top: 95, Bottom: Memphis build 1351).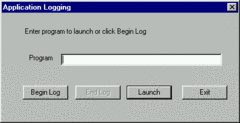 (PNG)
Included in the Windows folder is a logging program presumably to see if a program runs correctly, although I'm not sure if it actually keeps data logs somewhere.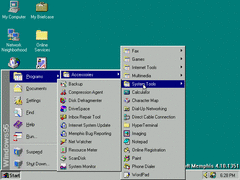 (PNG)
In "System Tools" within the start menu, there's two new web links that direct to a subdomain of Microsoft's website. One links you to internet updates, the other is for reporting bugs. Searching these links on the Wayback Machine came up empty, which isn't surprising. "Backup" also appears to be changed judging by the different icon, so let's take a look at it now.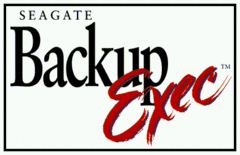 (PNG)
The splash screen for the backup program.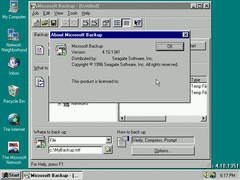 (PNG)
And here it is, the new backup utility. I should also mention that this version cannot restore backups created with the older version from Windows 95, but will be fixed in a later release - as stated in the release notes of this build.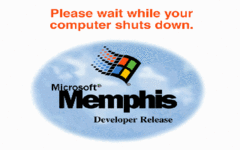 (PNG)
Finally, shutting down Memphis. Overall, the added support for more hardware and enhancements to the system is a nice touch, but as we'll see further down the road, things will get much more rough.