Windows 98 1569
Author: Blue Horizon
I was originally planning to do multiple builds for this review as I thought there wasn't going to be enough stuff for me to cover here for one build, but this particular build happened to have so much stuff that adding more screenshots from later builds to the pile would only delay this review further. By this point, it kind of feels like Windows 95 with the Active Desktop update, plus more features and programs for them to justify it being a completely new version - essentially fulfilling what its finalized incarnation would be, but with less spit and polish.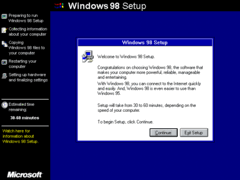 (PNG)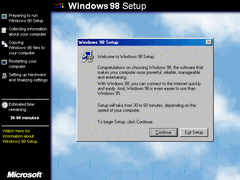 (PNG)
For instance, a lot of the setup process has now taken its desired form, with the sidebar now sporting new icons as well as being a bit larger. The "Setup Steps" text at the top left corner was also removed from here and onward. The only main differences from the retail build at this point are some portions of the wizard and the file copying process.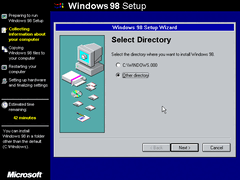 (PNG)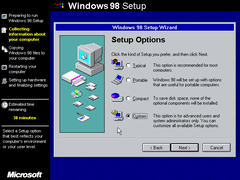 (PNG)
Much in the way of dialogue has also been reworked. For example; "Choose Directory" is now "Select Directory", and Setup Options has its dialogue finalized - and would also be used for all future builds of 98.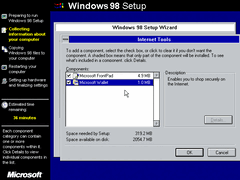 (PNG)
In the components list, Internet Tools has a new item called Microsoft Wallet. According to cabpayie.inf, this mainly drops a help file into the installation, specifically mswallet.chm. I'll get to that in a moment.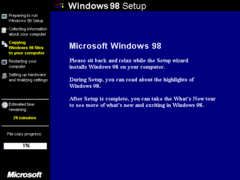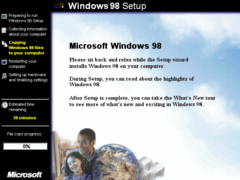 The setup billboards have been redesigned to be more compact looking - with headline text being much smaller like how it is in the released product. Some slides have been repurposed in the process, though most slides remain unchanged from previous builds otherwise.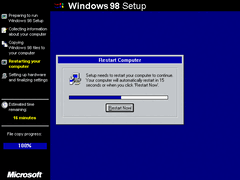 (PNG)
The "Restart Computer" dialogue was reworded slightly, with the word "the" being replaced with "your". This is also what all later builds of 9x would use.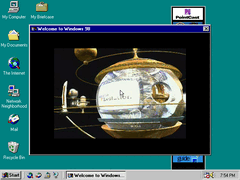 (PNG)
When first starting up, the Welcome program noticeably features a different introductory video, this one being about a brief look at the history of media. There's no indication if the video comes directly from Microsoft, but either way, it would subtly be reused for one of their future operating systems.
In the process of taking screenshots of this program, I ran into a bug where the video would freeze and stutter endlessly. You can see how that played out here:
And here's a copy of the actual intro video. It looks impressive by 1997 standards being that its in 30FPS. Prior to that, the Sony Vaio from 1996 really wanted to make high quality video files standardized as much as possible: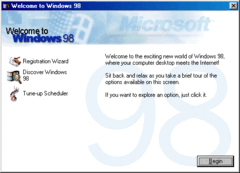 The program itself has a new icon of a typical Windows flag, but also that there is one option removed from the list - or rather two, as one has been replaced by a new option; "Discover Windows 98". "Tune-up Wizard" has also been renamed to "Tune-up Scheduler", which I'll discuss further on. The "Exit" button has been changed to say "Begin", which would carry over to the gold release of Windows 98, with the only way to visibly exit the program being the "X" button. That's a pretty vague choice for designing a dialog box, especially considering they would later pull that stunt again with their "GWX" program during 2015 through 2016 - only its a bit more sinister than that. The "Begin" button would later be scraped by Second Edition.

(PNG)
Unfortunately, the Discover program is nowhere to be found on this particular copy of the build. Gotta conserve space for that Warez CD to make way for more trivial applications and games! Though at least we'll get to see what the program looks like in a future build.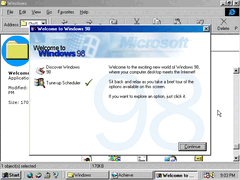 (PNG)
On subsequent launches, Welcome removes items from the list, "Register Windows" in this instance. The icons on the left don't even keep in-sync with one another. Also, a green checkmark is displayed for items that have been fully run, alongside an accompanying "Continue" button in the corner.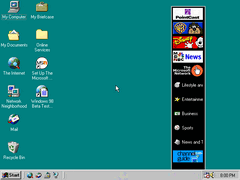 (PNG)
Compared to the desktop from build 1559, there's a multitude of changes:
That active desktop background from before is gone.
The channel bar list has been rearranged and now has a solid black background instead of being grey.
Several new icons are seen both on the desktop and taskbar; notably Channels, Mail, and MSN.
A couple shortcuts are also removed from the desktop, those being "Welcome to Windows" and the Inbox icon from Windows 95.
The new icons that come with IE4 and Windows 98 make their first visible appearance, although they were previously first included in build 1525 under hiding.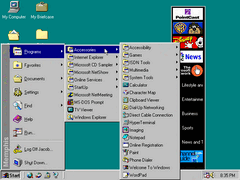 (PNG)
Thankfully, the start menu has returned to its more compact form, although it is still noticeably a bit taller than its 95 counterpart. And also, the menus doesn't animate anymore. "Windows Update" is also absent from the top of the menu, alongside some shortcuts in the programs group. I can only guess that the reason for "Memphis" still being referenced in the banner is that when build 1546 (the official Beta 2 build) was released to testers, the external build lab that distributed it briefly changed the banner to say "Windows 98", yet this change did not carry over to the primary development team, since they were probably unaware of it. It could've just been a lack of communication for all we know.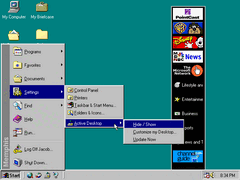 (PNG)
In the settings menu, an option for enabling the Active Desktop was added, along with being able to customize and update it on command. This would later be scrapped, as you probably would've guessed.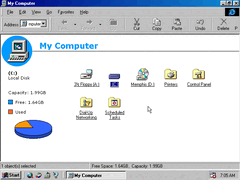 (PNG)
The Explorer interface looks just how it would for Windows 95 and NT 4.0 users if they chose the Active Desktop update during IE4's setup. This design would ultimately be replaced with a different look for the gold release. One difference I've noticed is that the pie chart for displaying drive space at the left is colorized (blue and orange), as opposed to grey and white in later builds.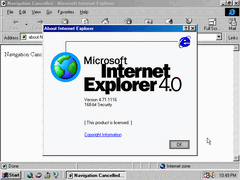 (PNG)
Internet Explorer 4 finally gets its distinct about dialog box, complete with an Earth graphic and IE logo. Normally, the credits easter egg would be revealed by holding the Ctrl key and dragging the IE logo over the text to reveal an "Unlock" button as such, but that hasn't been implemented here yet.

(PNG)
Hovering over the "Copyright Information" link reveals a few copyright symbols behind it. I've also adjusted the brightness in the bottom shot for better viewing.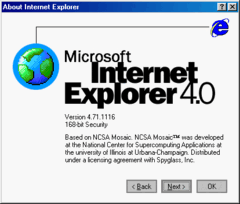 Above is all the pages for that Copyright Information section.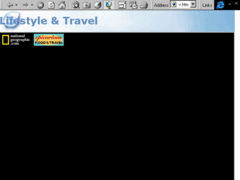 I wasn't aware of this until now, but clicking on any of the channels in the sidebar will direct you to various page categories complete with even more advertising. This was also in build 1546.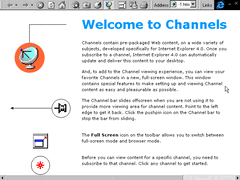 (PNG)
A new welcome page for Channels was created, featuring more of an emphasis on circles for graphics, which is a common theme with IE4.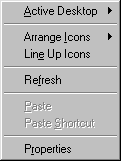 (PNG)
I only just came across this while writing the script; it seems that the menu for creating new files and shortcuts is gone! Well, at least on the desktop - it still displays when right clicking inside an explorer directory. Upgrading from a previous build doesn't produce any different results either. I initially thought this was due to Active Desktop being enabled and was screwing with the UI, but apparently not. Thus far, this is also the only build I know of to have this bug/quirk. Interesting yet weird.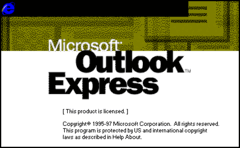 (PNG)
Outlook Express features a new splash graphic that's very reminiscent in style of Outlook from Office 97.
(PNG)
Visually, the icon for Outlook Express is the same as before, just that the perspective of its orientation is different, now facing frontwards rather than being at a tilted angle.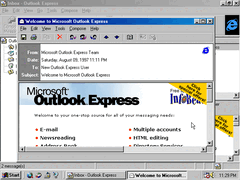 (PNG)
The welcome message for Outlook Express now has a distinctive advertisement for InfoBeat, among others. I can also see from old Wayback Machine captures that they had a button graphic promoting to download IE4, but then later zapped it sometime in late-1998. Signs that MS once bribed them, perhaps? Either way, the InfoBeat ad stuck with Outlook Express up to version 6, and they didn't bother changing it to use the updated logo in newer versions either.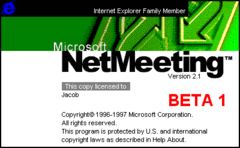 (PNG)
NetMeeting also makes a return with a new banner, once again similar in style to the Office 97 splashes, even featuring an "Internet Explorer Family Member" tagline.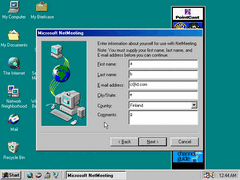 (PNG)
I haven't mentioned this before, but a lot of billboard graphics for wizards and dialogs in Memphis still retain the Windows 95 design language - around half of which would of course be scrapped by the retail release. Now to just enter some completely legitimate information...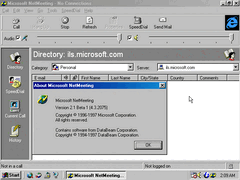 (PNG)
Much like earlier versions of Outlook Express 4, NetMeeting 2.1 (known as a Beta 1 release at this point) features a sidebar reminiscent of the one found in Outlook 97.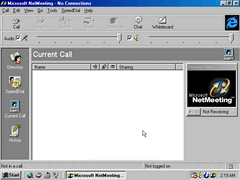 (PNG)
Within "Current Call" is a video player to the right, which would be the case for the RTM. It would be less than another year for it to be compacted into a smaller window frame with the version included in Second Edition.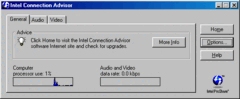 (PNG)
Alongside NetMeeting, running in the background is Intel's Connection Advisor that reports the amount of data and speed being sent over the network, along with CPU usage.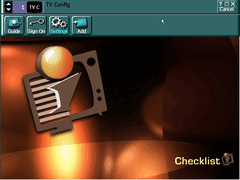 (PNG)
TV Viewer works here, and the setup process remains mostly the same from what I can tell - albeit unusable with the absence of buttons. The top toolbar also features much more functionality, offering more window options as well as visible buttons for easy access. It's possible all this was previously implemented in build 1559, if it weren't for TV Viewer crashing upon launching it there.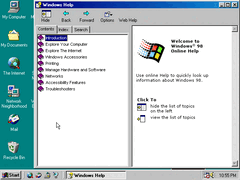 (PNG)
Help from the start menu now directs you to an updated version of HyperHelp, fully-featured with topic and a search function. A main page featuring a Windows flag is also seen as a placeholder.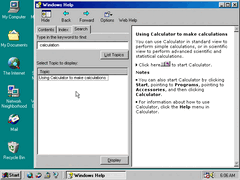 (PNG)
And the obligatory screenshot of HyperHelp searching a topic about performing calculations, all while apparently requiring IE4.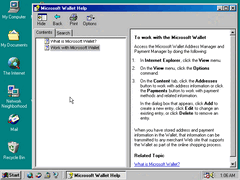 (PNG)
That Microsoft Wallet component I mentioned earlier drops a help file, Mswallet.chm, in the help directory. It describes exactly how to find and make use of it. If it weren't for this file being added, I never would've guessed to look there myself.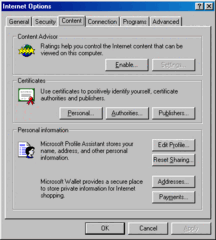 (PNG)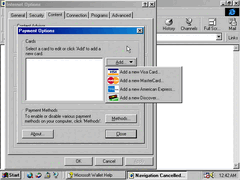 (PNG)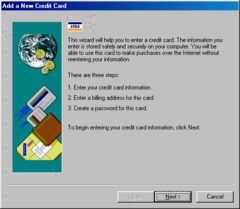 (PNG)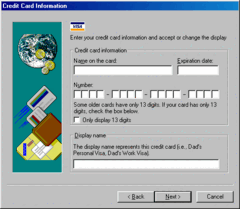 (PNG)
Previously in build 1559, there was indeed a button entitled "Payment...", but it was greyed out and thus hadn't been implemented. It was also called "Payment Manager..." in earlier builds (still greyed out). Now, it has been given actual functionality here.
The user is able to add the credit card brand of their choice from four options. The rest should be self-explanatory.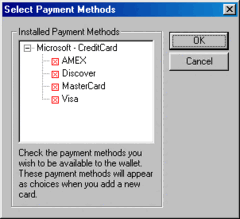 (PNG)
There's also a "Methods..." button for toggling off some credit card options from the list if you only use specific brands of cards.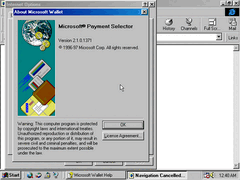 (PNG)
The about dialog. It also plays "The Microsoft Sound" in much the same fashion as MS Office and other products. This would also continue to be used up to the retail build, just with small incremental version numbering through the rest of the pre-release builds. It would later see a major update in Second Edition.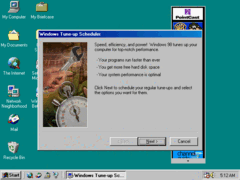 "Windows Tune-Up Wizard" has been renamed to "Windows Tune-Up Scheduler", although its start menu entry still refers its former name. Some steps and dialogue are different as well, as it now provides more context on deleting temporary files, as well as removing any redundant questions - like asking to speed up programs.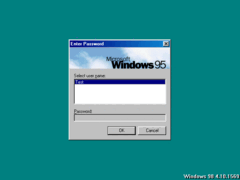 (PNG)
One interesting aspect about this build is the Family Logon dialog. It now bears a full graphical banner with Windows 95 branding, complete with a Clouds.bmp background. What was this banner going to be used for, anyway? Seeing as 95 OSR2.5's version of IE4 doesn't make use of it, I can only assume that this graphic was created at some point during development, and they're only using it as a placeholder since they've already decided on using Windows 98 as the final name by this point. Still, its odd that they would let this banner go to waste when they released a standalone version of IE4 for 95. I would've liked to see an NT 4.0 variant too.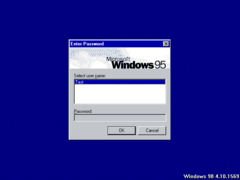 (PNG)
Here's that same banner in 16 colors. The sky isn't so blue now...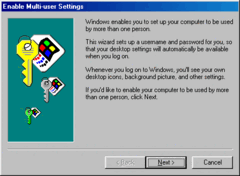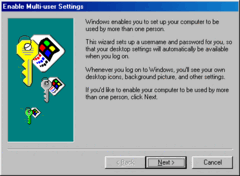 Builds 1559 (top); 1569 (bottom)
In the Users applet, there's a new step for choosing personalized folders, as well as how users want the new folders to be created. Some dialogue has also been reworked, or even outright removed, such as one step not mentioning passwords being used for Content Advisor in IE. That probably coincides with the addition of Microsoft Wallet in this build.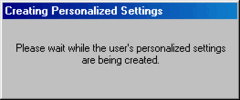 (PNG)
After finishing the wizard, this new message displays when creating a user profile.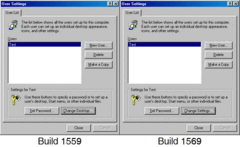 (PNG)
One button in the Users applet is promptly changed from Change Desktop... to Change Settings..., the latter of which has a "new" dialog full of options, while the former only brought up the users' directory in explorer.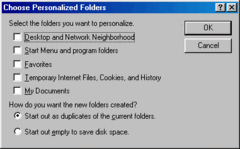 (PNG)
Those options in question actually derive from the multi-user wizard, which is exactly the same layout as those found in that one step, with the added purpose being that users can change options later on here like so.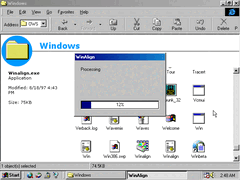 (PNG)
In the Windows folder, an exectuable entitled as winalign was added. I'm not exactly sure what its purpose is for. From what I gather, this was meant to align certain exectuables for... unknown reasons. What I do know is that it eventually became nothing more than a DLL file in the retail release, or at least not until Second Edition, presumably paired with a .JOB file.
Its corresponding INF instructions contain the following script:
[NoAlignApps]
navw32.exe=1
msvcrt.dll=1
msvcirt.dll=1
dssbase.dll=1
dsssig.exe=1
rsabase.dll=1
pstores.exe=1
psbase.dll=1
mfc42.dll=1
actpmnt.ocx=1
dscvr.dll=1
jcb.dll=1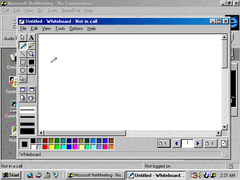 (PNG)
Going back to NetMeeting, I'll demonstrate one of its built-in utilities called Whiteboard, which is what Paint would be like if it was actively given more refinements instead of its development mostly laying dormant after Windows 95.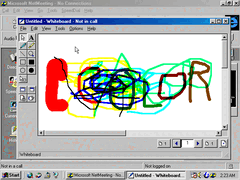 (PNG)
For one, colors have the ability to overlap and blend in with each other, creating a more three-dimensional appearance. And being that its a whiteboard, it also comes with a highlighter pen tool, which would later be standardized with Snipping Tool in newer versions of Windows. It wouldn't be until Windows 7 that Paint would somewhat introduce the concept of utilizing transparency, but its still limited to a number of drawing utensils.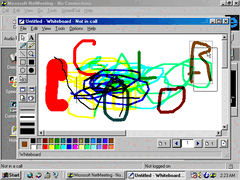 (PNG)
You can also move individual drawn lines around, effectively making each instance of a drawing its own movable layer. Also noticeable in the title bar is "Not in call", which would imply that others in a meeting can view others whiteboards over the net in real time.