Windows 98 1546
Author: Kugee
Memphis 1546, known as Windows 98 at this point. This is the official Beta 2 build, and comes with some extra demo software on the CD.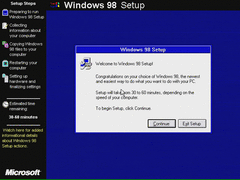 (PNG)
Not much is different in Setup from the final release, apart from a few entries here and there.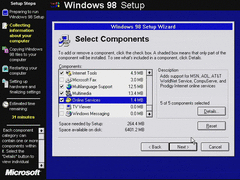 (PNG)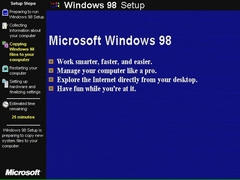 (PNG)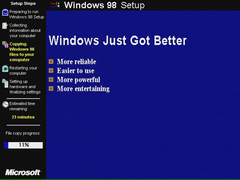 (PNG)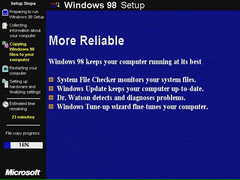 (PNG)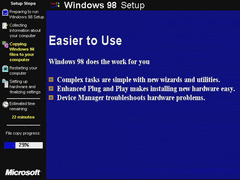 (PNG)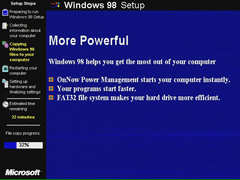 (PNG)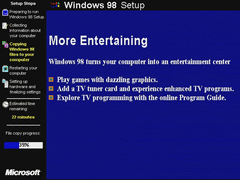 (PNG)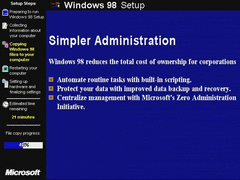 (PNG)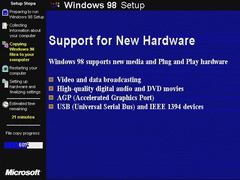 (PNG)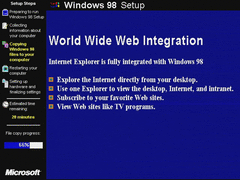 (PNG)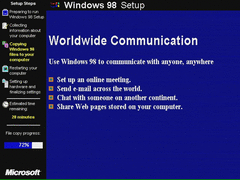 (PNG)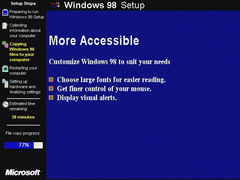 (PNG)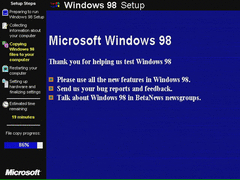 (PNG)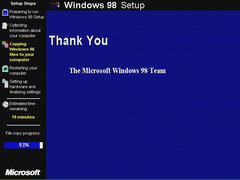 (PNG)
Windows 98 still refers to itself as Memphis in some instances.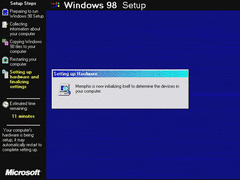 (PNG)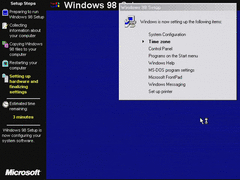 (PNG)
The classic Windows Messaging inbox is still around, but is surely being replaced by Outlook Express.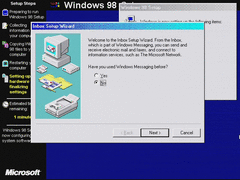 (PNG)
Setup doesn't reboot the system after the last part.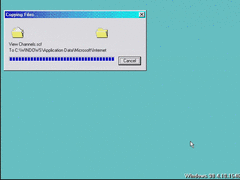 (PNG)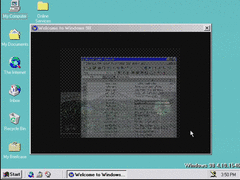 (PNG)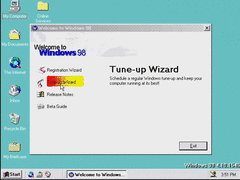 (PNG)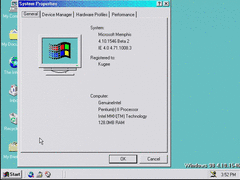 (PNG)
All efforts to install ACPI in this build were futile. I'm sure my laptop did support it. (EDIT 9/30: It didn't.)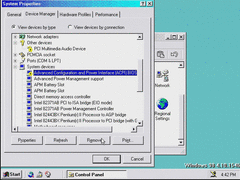 (PNG)
Memphis 1546 works with the generic USB mass storage driver made for Windows 95.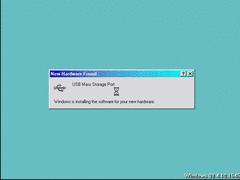 (PNG)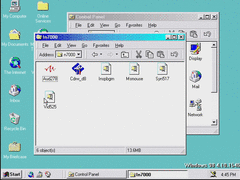 (PNG)
Splash screen.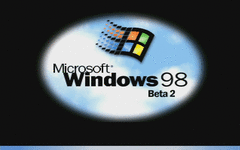 (PNG)
Infrared monitor, same as in Windows 95/98, communicating with my Palm Vx.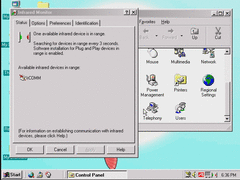 (PNG)
Display properties, also includes ATI tabs from the drivers I installed.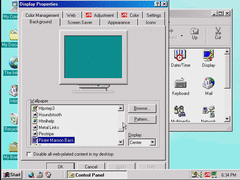 (PNG)
The folder options window has different graphics.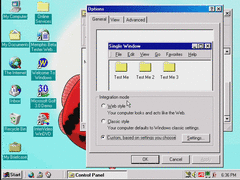 (PNG)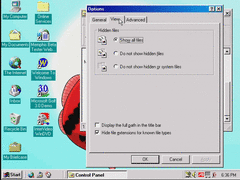 (PNG)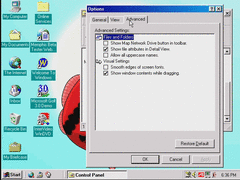 (PNG)
Multi-user setup wizard.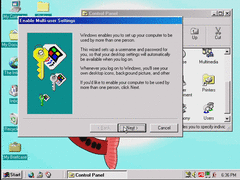 (PNG)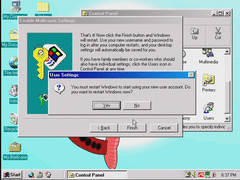 (PNG)
New login window, still appears to be incomplete as it's missing a graphic on the left sidebar.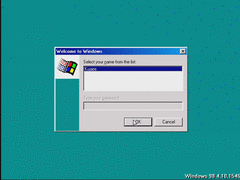 (PNG)
The welcome screen now has a greeting for the user's name in the upper left corner in a desperate attempt to make the software more personable.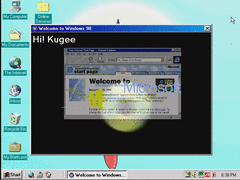 (PNG)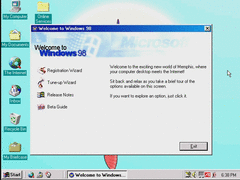 (PNG)
IE4 seems to be closer to taking form here.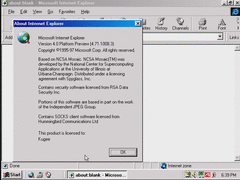 (PNG)
Microsoft FrontPad, which would later become FrontPage Express.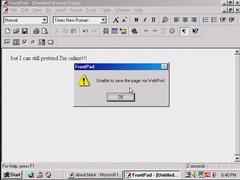 (PNG)
Not even trying to browse the internet.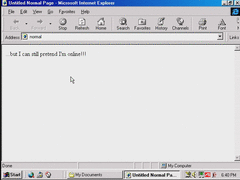 (PNG)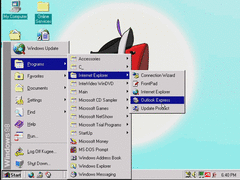 (PNG)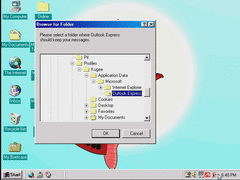 (PNG)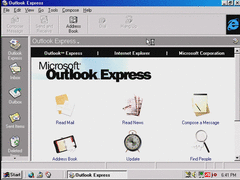 (PNG)
John Smith is a Microsoft user.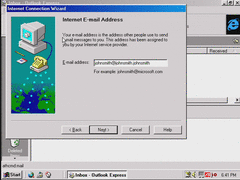 (PNG)
John Smith is a Microsoft customer.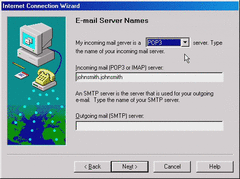 (PNG)
John Smith is a Microsoft patron.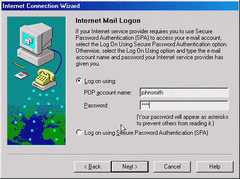 (PNG)
John Smith is a Microsoft VIP.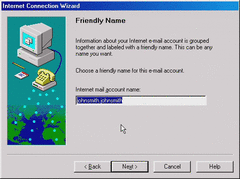 (PNG)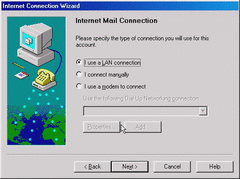 (PNG)
Thank you, John Smith.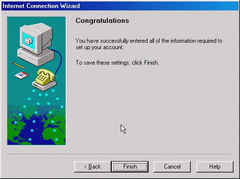 (PNG)
We will now disconnect you, John Smith.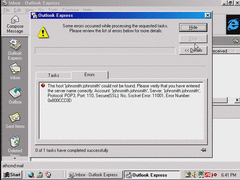 (PNG)
Memphis 1546 comes with a trial version of Microsoft Golf 3.0.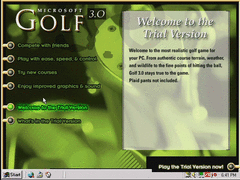 (PNG)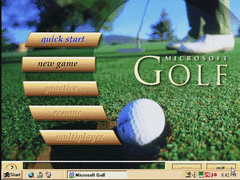 (PNG)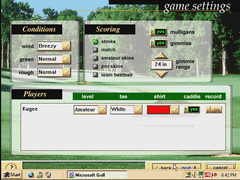 (PNG)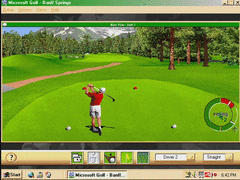 (PNG)
Golfing is lame, try Pac-Man instead.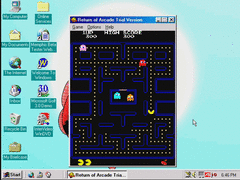 (PNG)
Trial version of Monster Truck Madness, doesn't seem to be using hardware 3D acceleration, maybe it is, I can't tell because I never play this game.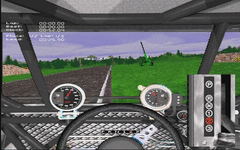 (PNG)
I couldn't get the default DVD player included in Memphis 1546 to work, so I resorted to using WinDVD.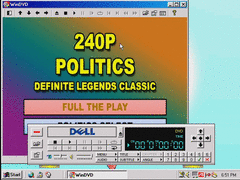 (PNG)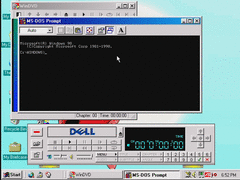 (PNG)
Strangely, this build loads a program group called "Main" into the Start menu, much like the one found in the Program Manager for Windows 3.1/95.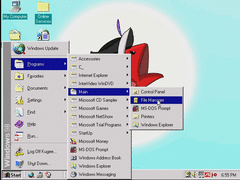 (PNG)
The File Manager reads DVDs!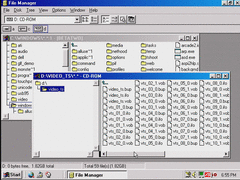 (PNG)
Now all my drivers are gone.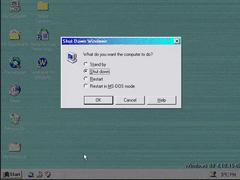 (PNG)
That just about does it for the footage I've recorded of this build.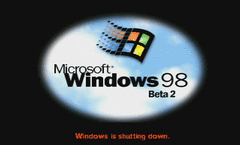 (PNG)
A late word on this build, the CD includes a bunch of Microsoft promotional material that's been uploaded to YouTube. I don't know if it appeared on other CDs. (5/19/2021: the video was deleted)
Author: Blue Horizon
We've now arrived at the official Beta 2 build of Windows 98, and along with it is a whole smorgasbord of new things to cover. This was dumped from the original CD, so nearly, if not all files are intact. I say that because I have a theory that builds within this range might have shared some of these features had it not been for builds originating from warez are more stripped down (usually to save space) compared to the original source media. I don't mean extras like CD Samplers or trial software (except MSN), but rather webby content like the channel bar. Regardless, I'll still document the stuff that remains intact in this particular build.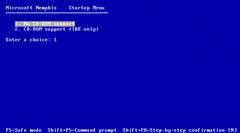 (PNG)
This build actually comes with a unique boot disk that doesn't seem to be very well known. It introduces the startup menu for selecting to start with or without CD-ROM support.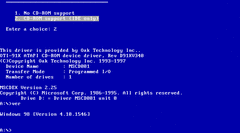 (PNG)
Unlike Windows 95 OSR2's boot disk, which usually mounts the CD-ROM drive letter to R:, Memphis' boot disk mounts it to D:. From what I recall, the final boot disk mounts the drive to E: for whatever reason.
And you may have noticed that the background is blue here. This is thanks to a line in CONFIG.SYS: menucolor=15,1. In this instance, '1' corresponds to blue. Changing the hex digit likewise changes the color, such as '4' for red as shown below. There's also a cheat sheet for reference on color syntax values here: https://www.computerhope.com/color.htm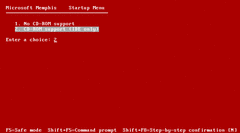 (PNG)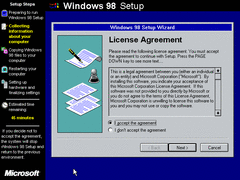 (PNG)
This is minor, but I did notice above the EULA that they added the text Press the PAGE DOWN key to see more text..., in case you're using a keyboard to navigate through setup.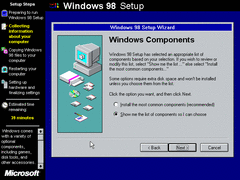 (PNG)
It's a little hard to explain, though I noticed that after build 1538 they changed the font in the header ("Windows Components" in this case) from the serif typeface used for Windows 95 setup, to an Arial-esque one that is used for all future 98 builds.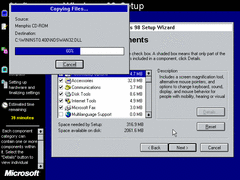 (PNG)
Some references to "Memphis" still remain unchanged.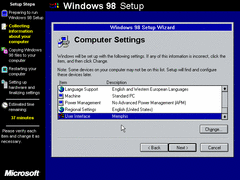 (PNG)
The option to select the Program Manager shell is still present.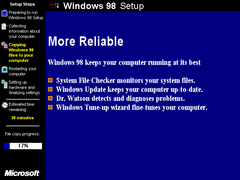 (PNG)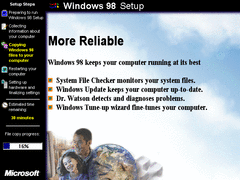 (PNG)
Compared to build 1544, only one slide has been changed during copying files. That slide now having: Windows Update keeps your computer up-to-date.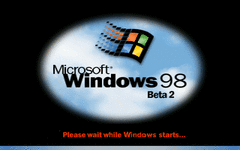 (PNG)
Weirdly, even though SULOGO.SYS is present on the CD, it goes unused during setup. Regardless, the splash screen identifies as "Beta 2" along with its finalized name.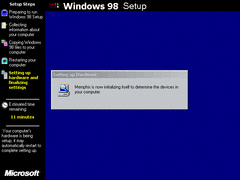 (PNG)
At this point, I'm convinced this font problem won't be partially addressed until much later down the line with Win9x - not that its a problem in need of fixing.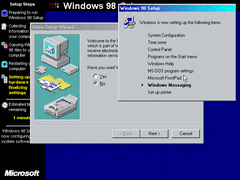 (PNG)
During the last phase of setup, one of the items on the list is "Microsoft FrontPad" which I'll demonstrate further down.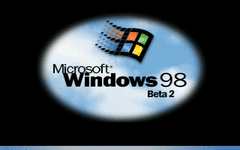 (PNG)
The boot splash. What I described about SULOGO.SYS still applies here.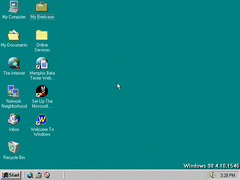 (PNG)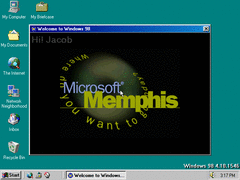 (PNG)
There's now a new shortcut on the desktop directing to the welcome application, and the shortcuts for the beta documents are for some reason absent.
Also, the welcome application automatically starts up on the first login.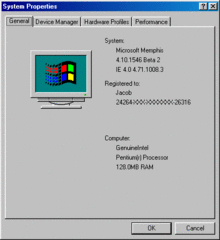 (PNG)
Of course being an officially released beta build, it identifies as "Beta 2" in system properties.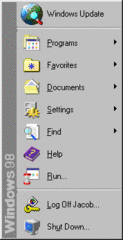 (PNG)
The start menu banner now reads "Windows 98", but still retains the grey color of the 95 one. A shortcut for Windows Update is also placed at the top of the start menu, which is what that setup slide shown earlier was likely referring to.

(PNG)
In the favorites menu, the Channels folder has a new icon which only seemed to appear when doing an upgrade path from a previous build.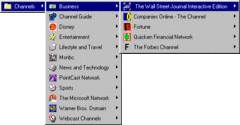 And here is what's included in the folder. I'm mainly showing all the items that have icons.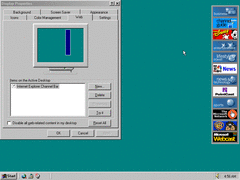 (PNG)

(PNG)
Oh boy... This build includes an early iteration of the infamous Channel Bar consisting of graphical buttons pointing to website links, some of which point to nothing now of course. I really don't know what Microsoft was trying to aim for here. The Channel Bar practically gives these websites free advertising since it is always running locally offline. This kind of idea would've been executed better if it was only locally within the browser, instead of being plastered onto the desktop. At least then it wouldn't be eating more resources in the background. Some tooltips provided with the channels are incomplete as well, as the sentences often get cut off before being finished.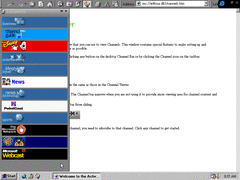 (PNG)
Sure enough, they did exactly what I was talking about and put the channel bar contents within the browser in the form of the sliding channels menu, which was previously devoid of content.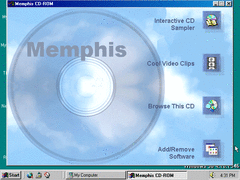 (PNG)
The CD includes an autorun program that hasn't been seen up until this point. There is now a button for demoing the new CD Sampler, replacing Windows 95's Exposition program. The background has also been modified to report as Memphis (crudely written in Arial Black), as the bottom half of the clouds background and CD have been mirrored over the Windows 95 text along with some noticeable paint jobs on the clouds next to the transparent disc. It is clear this was a placeholder before being replaced later with a different background image.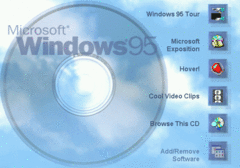 (PNG)
For comparison, here is the autorun program from the Windows 95 CD. The two things that are removed from the 98 beta autorun are the 95 tour, and also Hover!.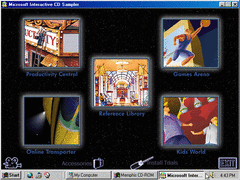 (PNG)
The CD Sampler program doesn't look too different compared to the standalone ones from 1996/97 or the one included on the 95 OSR2.1 CD. One thing I did notice is that there's a button to install trials at the bottom, whereas previously there was a help button. New exclusive video clips are also included on the CD that pertain to the Sampler program, including one of those goofy Microsoft Home style videos on Encarta 97. I haven't seen these clips on other sampler discs.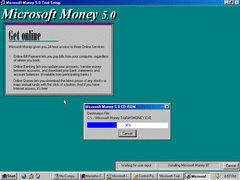 (PNG)
The Sampler contains an automatic installer for all the trial programs selected (user input needed for some), and displays the overall progress for each program in the corner. This would actually make a pretty useful utility for installing software in bulk just to get your foot in the door on a fresh installation.
For these next screenshots; I'll show what trial software is included as well as write down anything noteworthy.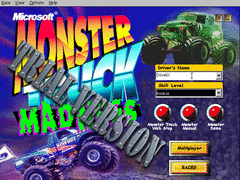 (PNG)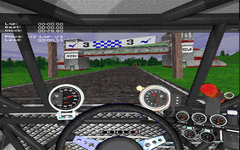 (PNG)
From what I can tell, this game is using software rendering - and it has good frame rate for a Pentium 75. Speaking of which, I don't know why, but the music in this game reminds me of an old mockumentary from 2006 called "Male Restroom Etiquette" during the fight scene. You'll know what I mean if you compare the two.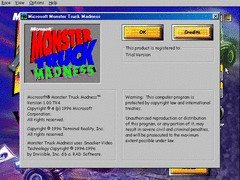 (PNG)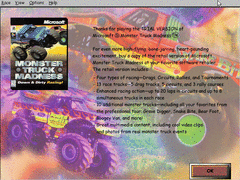 (PNG)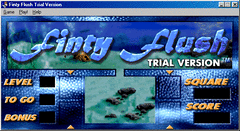 (PNG)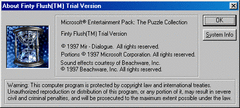 (PNG)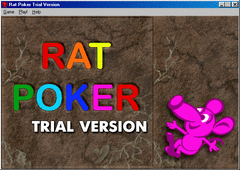 (PNG)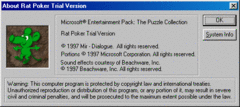 (PNG)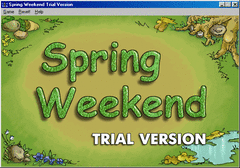 (PNG)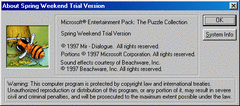 (PNG)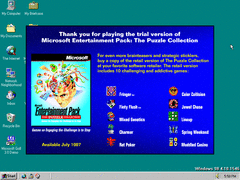 (PNG)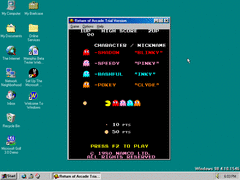 (PNG)
Return of Arcade actually contains ports of arcade titles rather than simply being emulated through, say, MAME. I initially thought the latter was the case when I first played this.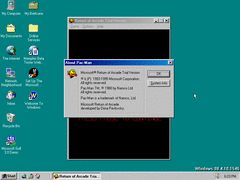 (PNG)
Yep, this predates MAME by about 2 years.

(PNG)

(PNG)
After beating level 2 of Pac-Man, the trial ends prompting the player to purchase the full version to advance further into the game.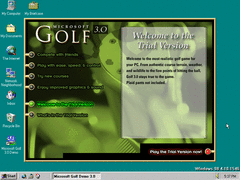 (PNG)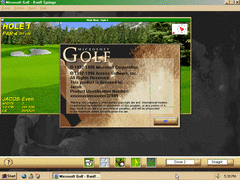 (PNG)
It's really cool to see a game change the color scheme of the interface to match the theme of golf.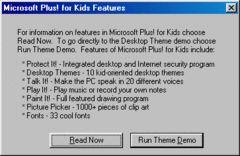 (PNG)
Plus! for Kids only includes desktop themes for the trial version. A lot of the retail themes would later be merged into Windows 98.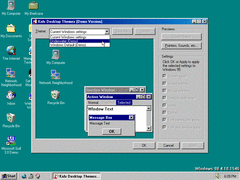 (PNG)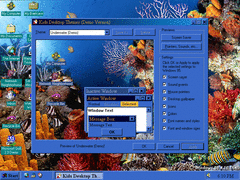 (PNG)
The trial version only includes two themes, or just one if you don't count the default theme. Since the theme manager originates from 95, there's no support for title bar gradients or being able to change the My Documents icon.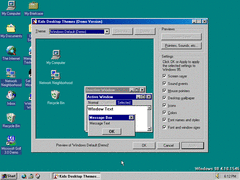 (PNG)
Now this was a surprise! It turns out the newer IE4/98 icons were hiding under the high color Plus! 95 icons all along. I also looked at earlier builds to see which ones had these newer icons, and it appears 1525 first had them.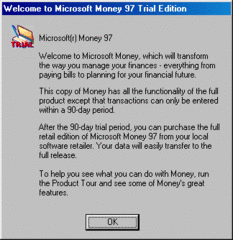 (PNG)
(PNG)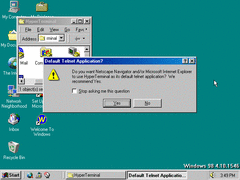 (PNG)
Netscape is now mentioned as an option for a default telnet application when opening HyperTerminal, so that probably doesn't bode too well with some higher-ups at MS, as they nuked mention of it by the final release.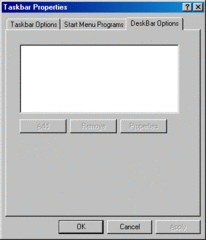 (PNG)
Now introducing one of the more forgotten unused features of Windows 98; the DeskBar. The idea behind DeskBar was that users could download desktop toolbars (cleverly shortened to DeskBars) from websites, and they would automatically be updated to provide current information on various topics. Webmasters however weren't so keen on this idea, as they were afraid this would detract the amount of views their sites get, since users wouldn't be visiting them directly. Thus, the idea was scrapped, though remains of it can still be found as late as Windows 98 Second Edition.
In order to access the leftover DeskBar feature, you need to open taskbar properties while holding the Ctrl key in order for the tab to appear. But as shown, there's no interactivity you can do with it as all buttons are unavailable, effectively making it a dummy tab. It was also first seen in build 1525 and like there it has no functionality.
You can read more about DeskBar through this article: https://www.askvg.com/did-you-know-hidden-secret-deskbar-options-tab-in-windows-98-taskbar-properties/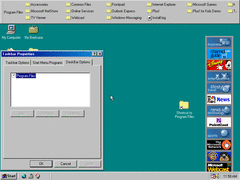 (PNG)
...Okay, I spoke too soon. The hidden DeskBar tab does provide some functionality by listing toolbar windows, where you drag a folder to one of the edges of the desktop, and it becomes a toolbar. Plus, dragging the toolbar away from the edge makes it into a tiny window, but DeskBar only displays a list of toolbars that are docked. Check boxes on the list do nothing as there's no option to apply changes afterwards, further showing development on this tab barely even got started.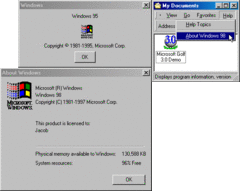 (PNG)
By this point, most references to previous versions have been replaced with Windows 98, but oddly winver still reports as Windows 95.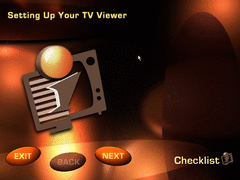 (PNG)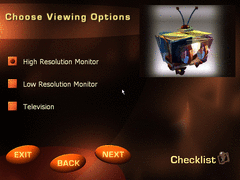 (PNG)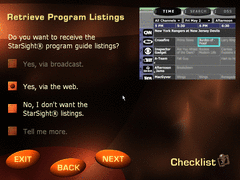 (PNG)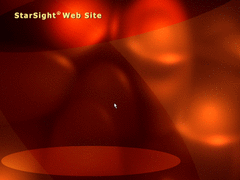 (PNG)
TV Viewer has been given yet another face lift - mainly in the form of setting it up. It now gives users the option to configure the resolution, and can also receive program guide listings from either StarSight or via broadcast. Wonder if Prevue Guide is an option?
The StarLight page attempts to load a page within an embedded window (which disappeared as shown), but since its trying to connect online, that page is long wiped from its presence. This really makes me question the longevity (or lack of it) in these kinds of components which rely on an internet connection to function that could otherwise be accomplished in some form offline; a legacy that continues to this day.
A walkthrough of the TV Viewer setup. On the third step, an embedded video plays in the corner as illustrated.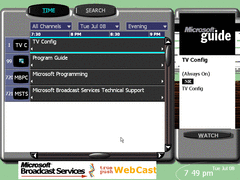 (PNG)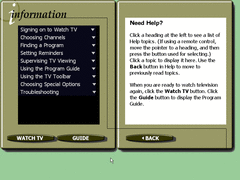 (PNG)
The program guide and information center are the same as before, albeit with garbled graphics next to the guide.
This build also comes with new release notes updated for Beta 2, so I'll leave these here for reference: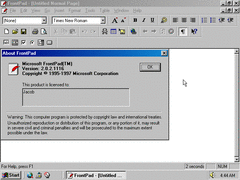 (PNG)
Internet Explorer now comes bundled with FrontPad, a web page editor that later became FrontPage. The name is supposedly derived from WordPad, as the only difference between their icons is FrontPad uses a red feather instead of an ink pen.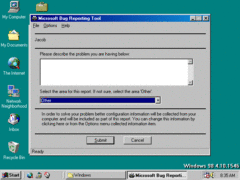 Located in the Windows folder is a new bug reporting tool (Bugrep32.exe), designed for sending reports over an internal network. As such, it doesn't work when it attempts to connect to an FTP server. And even if it did work, the tester would still have to enter their Beta ID and password, something that people who aren't directly beta testers don't have. The utility also collects information about system settings and hardware configuration for better quality control.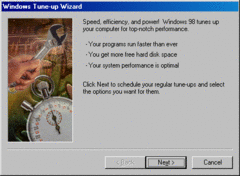 Minor thing, but I noticed the "Tune Up" part of the name has been reworded as "Tune-up", as well as the fact it now makes mention of Windows 98. Besides some updated dialog, the wizard process is more streamlined as instead of a list of check boxes to fill out, each tune-up session is given its own step accordingly.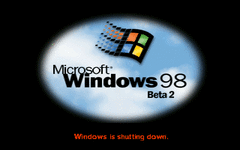 (PNG)
Always gotta end on a new shutdown splash. While the overall interface by this point has seen minor improvements since 95, this is more of the middle ground for whats to come in future builds - meaning it still retains the style of Windows 95 mixed in with elements that are heavily prominent in Windows 98.
I also have leftover screenshots from previous builds that I didn't get around to showing the first time: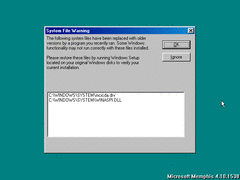 (PNG)
I'm guessing this pertains to the version conflict manager since it detects files with earlier version numbers. I don't remember how I triggered this message, but I vaguely recall it happening due to upgrading from a previous build.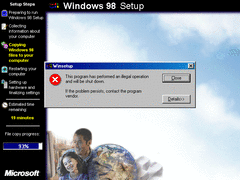 (PNG)
Hysterically, setup crashed one time just when it was nearing completion. It worked the second try.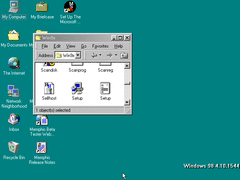 (PNG)
Hey, where'd my taskbar go!? I've never seen explorer crap out like that, especially leaving behind the explorer window.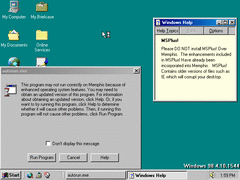 (PNG)
There is now a compatibility notice for Plus! 95 when attempting to install it, notably having an earlier version of IE that cannot be optionally skipped. Nonetheless, you can still run and install it - for now anyway, as the option was disabled in the retail release.