Windows 98 1544
Author: Blue Horizon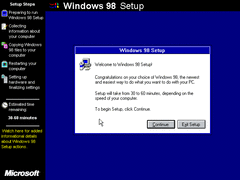 (PNG)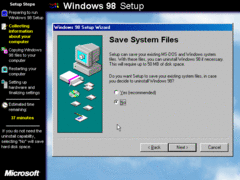 The official name for codename "Memphis" is now Windows 98 in this build, with many references to Memphis being replaced with 98. This also means its early Beta 2 territory at this point.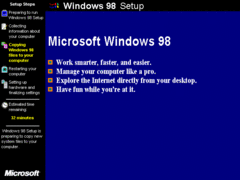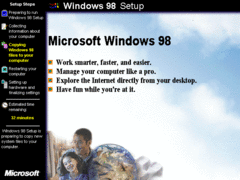 Likewise, the slides have been changed to accommodate the new name. While earlier Memphis' slides were a bit egotistical in their own right, it seems to have gotten worse here. It's mostly describing utilities designed to combat flaws in Windows, and features that are already possible in 95 OSR2. And because the original retail release of Windows 95 didn't have those added luxuries OSR2 had, and OSR2 was substantially difficult to obtain at that time being mainly distributed to OEMs and system builders, Microsoft had an easy route to advertise Windows 98 to those still using the RTM version of 95 for getting said luxuries, while at the same time weighing those improvements (and by extension, consumers/users) down to accommodate for otherwise unwanted software and utilities to make it look like a fancy upgrade.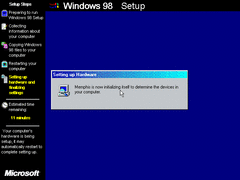 (PNG)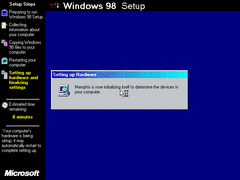 (PNG)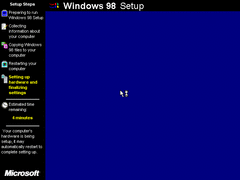 (PNG)
I feel like the Windows 9x setup wasn't really designed to handle background fonts from step to step, hence why Windows 95's setup was pretty simplistic looking in the first place.
Oh yeah, and some dialog with "Memphis" still isn't changed yet.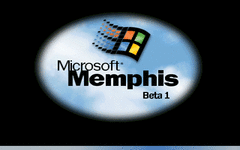 (PNG)
The splash screen is still untouched in this particular build.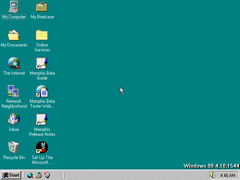 (PNG)
The build string on the bottom right is changed to reflect the new name like so. The shortcuts on the desktop are still unchanged.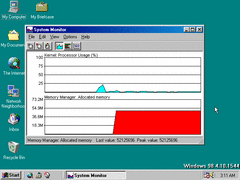 (PNG)
Holy smokes! As far back as the pre-beta Memphis builds, its typical ram usage has increased to around 52MB compared to the usual 23-26MB used by Windows 95. This is also strangely enough the same amount of RAM consumption in the RTM release, but I'd really like to know what is causing it to hog so much resources, as IE4 was not as bloated in its early development phase like it is later on.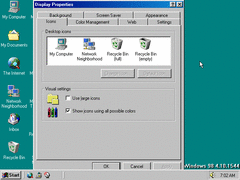 (PNG)
In the icons tab in display properties, there are only two options now whereas before there were five, like how it traditionally was in Plus! for Windows 95.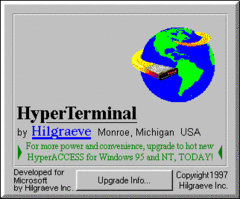 (PNG)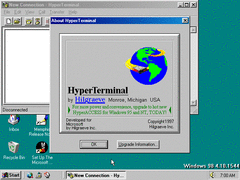 (PNG)
Well what do you know, its a brand new version of HyperTerminal! From what I know this newer version is capable of using the Telnet protocol.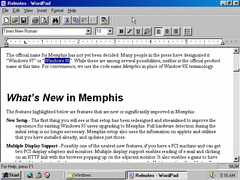 (PNG)
Release notes have yet to be updated. They make mention of how the press refers to an upcoming release of Windows as "Windows 97/98", yet intentional or not; you can find a reference to "Windows 97" in the FAT32 converter from earlier builds. Not to mention they've been known to hide preliminary names in their operating systems as early as codename "Nashville", where there was an entry in Add/Remove Programs for "Windows 96" - but I'll get to that some other time. And a more recent example would be in Whistler build 2202 where there were printer drivers labeled as "Windows 2001".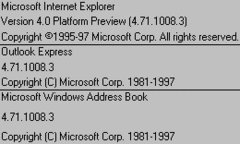 (PNG)
I've decided rather than show individual screenshots of about dialogues and their version numbers, I've taken the liberty of showing just their build strings and copyright dates in one convenient image. Only exception to this rule is when there are noticeable changes between the previous version should it warrant a full screenshot.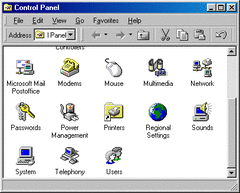 (PNG)
The Users icon in control panel has been updated again closely resembling the final icon. The color scheme of the icon feels more at home with Windows 95/NT 4.0.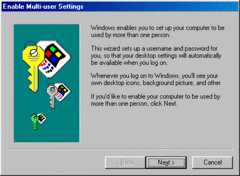 The multi-user wizard is a little different from the last time I showed it off, as it has artwork on the left, notably. This was already present in 1538, but I glanced over it. The only thing I notice that's changed in this version is that the wizard lacks quotation marks in its dialog. Yes, I really am crazy with pointing out the tiniest details.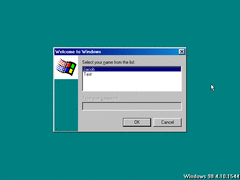 (PNG)
Once I added in the "Microsoft Family Logon" client in network settings (which was actually first added in build 1525), the new login window has a new graphic to the left of the dialogue, but has visible cutoff.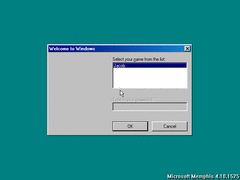 (PNG)
In comparison to the one from build 1525 (and 1532), the window size is larger and has plenty of empty space where the unfinished graphic would later be.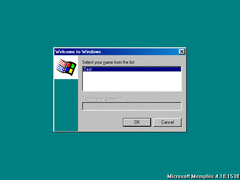 (PNG)
Just a small detail: it looks like 1544 removed the word "in" from the sentence above the password box compared to 1538. Guess I should expect to see more last minute changes like this if I haven't already.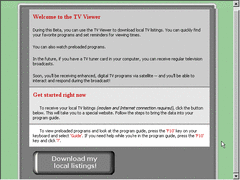 (PNG)
TV Viewer's default page has changed to being a short welcome message with a big download button link (that doesn't work, to no shock.)
But that's just scratching the surface. There's actually quite a bit that is new to see here in TV Viewer.
From what I observe from this new version:
Sound effects play whenever you bring up the slider and use it
The program guide has a new "three-dimensional" UI which would be prominent across WebTV later on
Help/information also has this new style applied, objectively polished up compared to what it was before
What is shown here had also been around in previous builds functionality wise, but here its mostly better execution than anything else.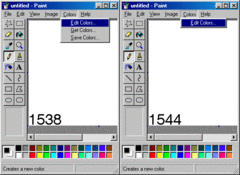 (PNG)
I happened to stumble upon this change at the last minute during the writing of this script: older builds of Paint had an option to save color palettes to use in tandem with future images. Later, they redirected those options into a new menu titled "Colors". But here in this build, it is flat out not even an option anymore. Why not?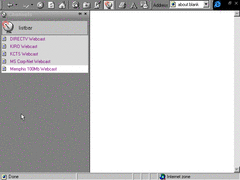 (PNG)
Launching "View Channels" from the quick launch bar, there's now actually links in the sidebar to click on instead of being blank. All of them are thankfully locally stored pages, so I'm able to show these off here.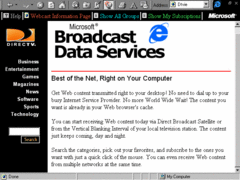 And this is what those 5 pages look like, except the only thing that makes them individually unique are the logos in the top left corner. You'll have to forgive the GIF artifaction/compression here as I didn't want to post 5 individual images of the same page.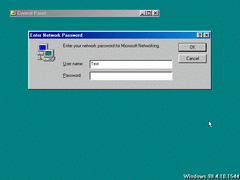 (PNG)
Going back to the "Users" feature for a moment; I ran into a bug where logging out while the control panel window is still open actually keeps the window intact for a few seconds before cutting out.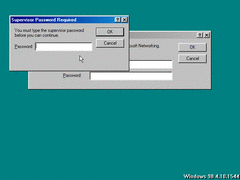 (PNG)
If you're quick enough, you can open up the users applet while the window is still in effect. It even goes as far as asking for a password first, something that wasn't mandatory when already logged in.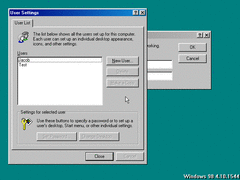 (PNG)
Its silly, but it does show the quirkiness and complexity of Windows 9x development. It has a distinct style that Windows NT can't quite match.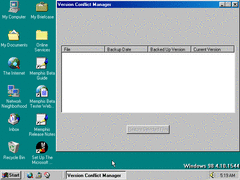 (PNG)
Dug through the start menu and found this in system tools. This utility appears to compare the version numbers of files from a CD to ones that are on the hard disk (at least that's my guess, as there's barely any context given here), and you can restore said files should problems arise. This would actually be quite useful for dealing with files that ask "the file that's being copied is older than the one that is installed" during installation.
So it's come to this... Quite frankly worth saving for the near end; its an all new welcome dialog! It's real different than what it ended up becoming in the retail release, like the fact it has an introductory video (still named Memphis) while displaying the username at the top corner as it fades in. Then it brings you to a selection page with four options on the left hand side - all while a catchy tune plays in the background, which would end up in the final release.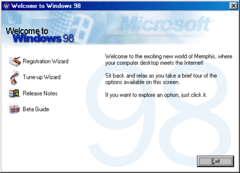 Even though Windows 98 branding is highly apparent in the welcome window, it is still referred to as "Memphis" in some places. My assumption would be that they had this welcome program floating around their build lab networks and only now are they using it, hence the mixed branding references. Although Microsoft is known for leaving behind leftovers of previous Windows codenames in their released products, intentional or not.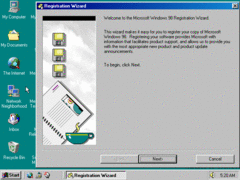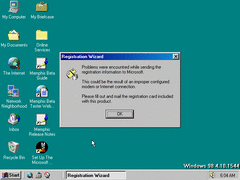 (PNG)
Which brings us to this registration wizard. It doesn't serve much of a purpose other than getting convenient product support and upcoming information on products and services. The art style of the banners are pretty cool, though. It reminds me of those Creative Sound Blaster drivers that after installation, would put an icon on the desktop informing you to register with them.
And that just about wraps it up for this build. What shall the official Beta 2 release bring to the table compared to this build? That I shall find out sooner or later. Stick around!