Chicago 73g
Author: Kugee
Continuing directly from build 58s, you can expect to see a number of refinements in build 73g.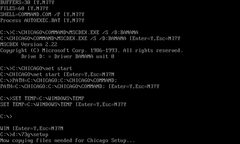 (PNG)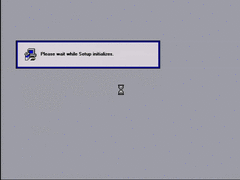 (PNG)
An extremely intimidating legal notice that was swiftly ignored.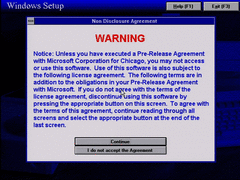 (PNG)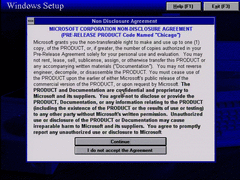 (PNG)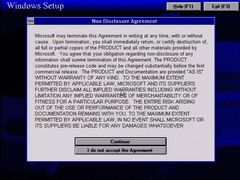 (PNG)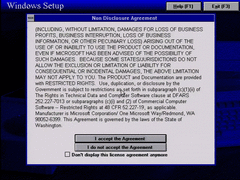 (PNG)
Setup asks again if you want to install the Plus Pack.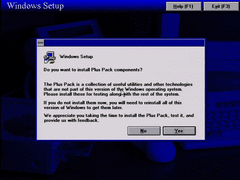 (PNG)
As the system is analyzed, you get to see a very nice stock picture of a well-equipped computer table with a monitor, keyboard, mouse (the user may be left-handed), an external SCSI CD-ROM drive using a caddy, and a fax modem which passes through to a caller ID phone. The colors and shading are very similar to those seen in the final setup background.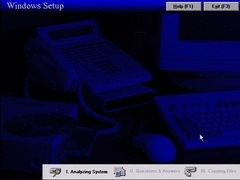 (PNG)
"Begin Setup" is no longer greyed out.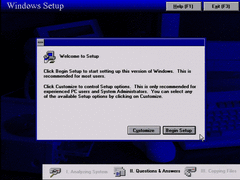 (PNG)
Network options can't actually be changed here. Setup will prompt you to configure the network settings after the files are done copying.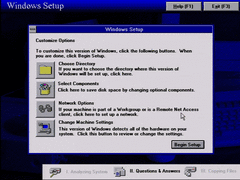 (PNG)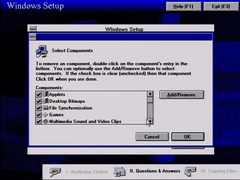 (PNG)
My video card is recognized as something made by S3, but I'm using a Trio64 instead of an earlier card like the Vision 864.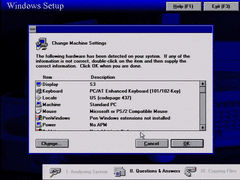 (PNG)
The beta site ID and password are not required in this build.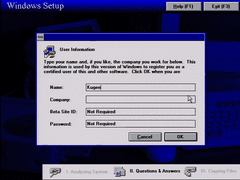 (PNG)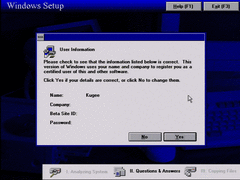 (PNG)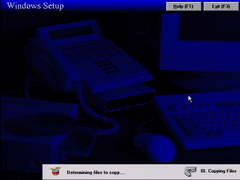 (PNG)
There are no such dialog boxes which brag about the new features of Chicago as files are being copied.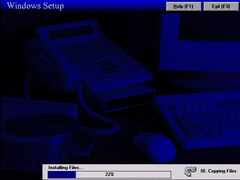 (PNG)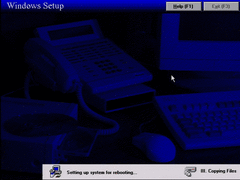 (PNG)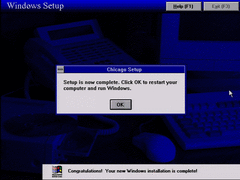 (PNG)
Much like in MS-DOS 6, a message now appears saying that Windows is starting, You can press a specific key like F8 while you see this message if you need to change how the system will boot.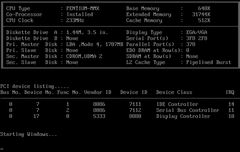 (PNG)
This is basically the equivalent of the "Getting ready to run Windows 95 for the first time" screen. The caption underneath can be seen in the final version of Windows 95 if you press escape during the splash screen in some instances, like on the first boot or after rebooting to complete an update installation.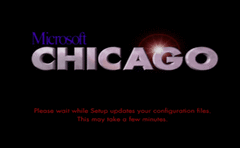 (PNG)
Chicago 73g decides to change its mind on tiling the Under Construction wallpaper, opting for a single image in the center. This can easily be changed back in the setup properties.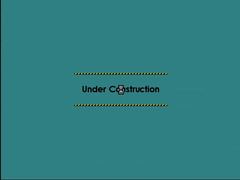 (PNG)
The login window is a lot tidier, as the area around the logo matches the window background. The title bar now uses bold text by default, and you are told to log on to Chicago instead of Windows for Workgroups.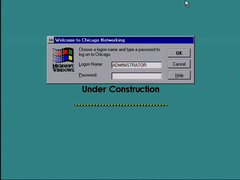 (PNG)
A printer will not be so important right now, maybe when I get back to going over Chicago builds in a more refined video I'll consider demonstrating it.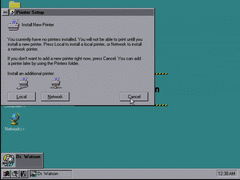 (PNG)
There are now five icons on the desktop, including a new one called "My Computer". The file cabinet uses the same icon as My Computer instead of the file manager icon.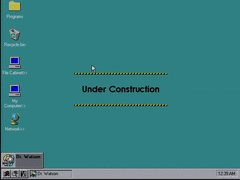 (PNG)
You might be inclined to call this a "start" menu, but it really don't look like one at all. That's why I'm opting to call it the Windows menu, unless there is a different official name for it.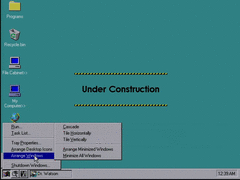 (PNG)
The File and Program managers are integrated with each other. During the stream, I didn't notice there was a new "Control Panels" folder in this window. (edited)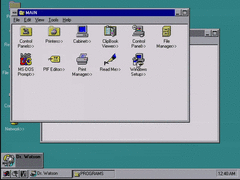 (PNG)
You can right click on an item and view its properties. Note that a shortcut is referred to as a link in these early builds.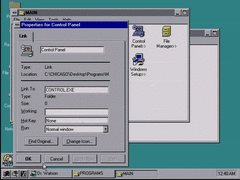 (PNG)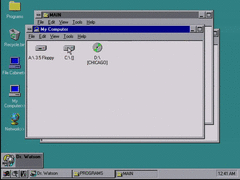 (PNG)
As expected, you can run most Win16 programs in Chicago.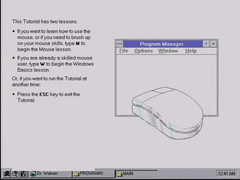 (PNG)
Chicago 73g won't load my OpenGL testing program, either due to its incomplete implementation of Win32 or because it just can't handle OpenGL even with the DLL files handy.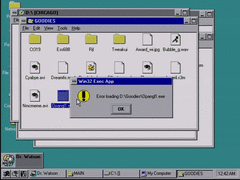 (PNG)
Also, it's unable to copy a file from a CD-ROM to the hard drive through the Chicago interface, so...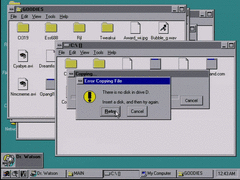 (PNG)
...I just used a DOS prompt to copy the upcoming wallpaper. The Windows 95 splash seen here does not come with Chicago 73g. That was supplied by the boot floppy from the final version, as Chicago doesn't yet supply its own COMMAND.COM.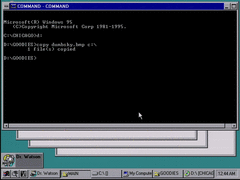 (PNG)
I'm stuck with 16 colors right now. It may be possible to load a third-party video driver in this build, so as long as it's not too complex.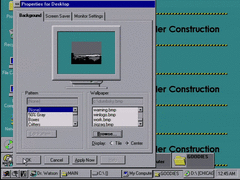 (PNG)
Imagine the entire world is rendered in a limited color pallette.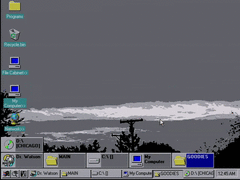 (PNG)
Many Windows preleases come with Dr. Watson loaded. Also notice that even though each window has a button in the bottom tray, it still collapses into a Program Manager-like box at the bottom left corner when minimized.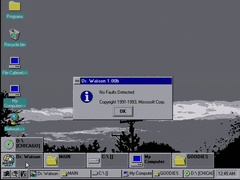 (PNG)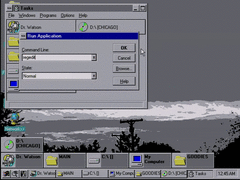 (PNG)
REGEDIT isn't the registry editor at all in this build. Instead, it serves the purpose of managing file type associations.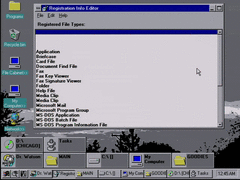 (PNG)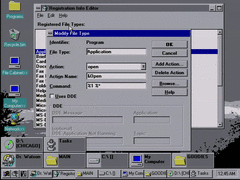 (PNG)
Trying to run Chicago 90c setup...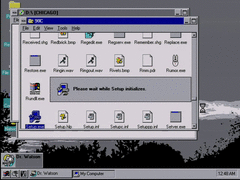 (PNG)
...and it insists on running in DOS mode. Setup in 90c and 99 fails because both are somehow unable to read the setup files, so I don't bother with them.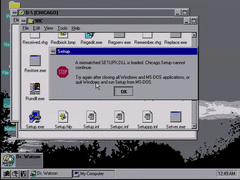 (PNG)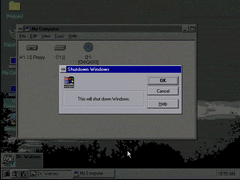 (PNG)
Instead of loading LOGOW.SYS, early Chicago builds just display this dialog box as they shut down.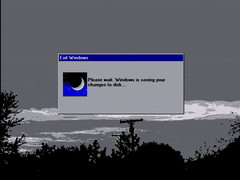 (PNG)
This screen looks a lot nicer than the one in the final release with the unsettling solitary orange text. It should be noted that Chicago 73g, and possibly earlier builds, is perfectly capable of turning off the computer on certain laptops and many ATX computers even when APM is not installed.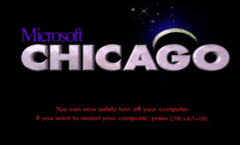 (PNG)
One other thing, 73g playing back a low quality video on a 66MHz 486.
Here's the setup background for some of the early Chicago builds, extracted from SUWIN.EXE.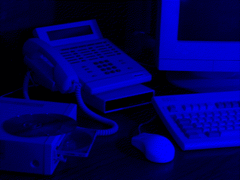 (PNG)
Author: Anonymous
73g is able to play almost all windows 3.1 games just fine
mostly shareware games
most of win32 programs dont even work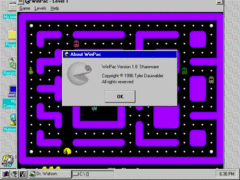 (PNG)
only win32 software that will actually run is the software that runs under Win32s
this pacman clone works fine after you set it to 256 colors
done with s3 trio64v