Chicago 58s
Author: Kugee
The screenshots to be posted on this day mostly come from a single 3-hour stream I ran on my channel where I would go through several random Chicago builds; this is the earliest leaked one. I haven't been able to install Chicago 58s without Windows 3.1x, so I have to run Setup on top of a Windows 3.11 installation.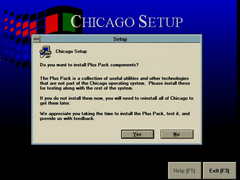 (PNG)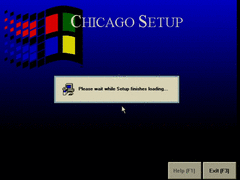 (PNG)
The Plus Pack is a set of optional components that were planned to be sold separately, but are included in this preview build to allow users to test such components (whatever they are, I haven't checked). In the final version, this would become known as Microsoft Plus! Companion for Windows 95.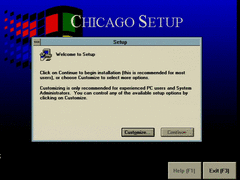 (PNG)
The installation can be customized to suit whatever hardware you may have installed, and unlike Windows 3.1x, it does include some video drivers for specific manufacturers like S3 or Cirrus Logic. My video card is too new for this build to detect.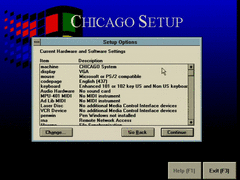 (PNG)
The computer I'm installing Chicago 58s on does use ATX power and APM, but APM is not detected here.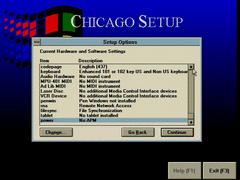 (PNG)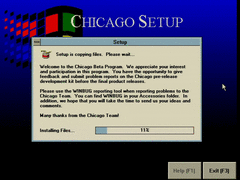 (PNG)
In order to get Chicago 58s to boot, I had to load some system files from the Windows 95 boot floppy and install Windows 3.11 on top of that. Earlier DOS versions may work as well, but the last time I ran into an error with COMMAND.COM, it said it required DOS 7.0 or later.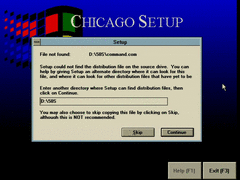 (PNG)
The network setup window is exactly the same as it is in Windows for Workgroups 3.11.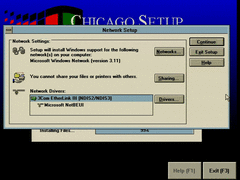 (PNG)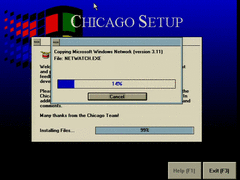 (PNG)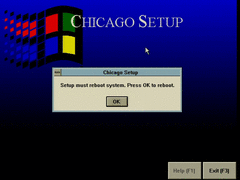 (PNG)
In contrast to the final release's bright, colorful, and cloudy splash screen, this one is mostly dark with a shimmering light in the middle of the logo.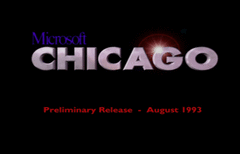 (PNG)
The Windows logo also flashes in various colors and positions. Although it looks way different, it functions in the same way as the final splash screen, as it basically rotates through a color pallette to give an otherwise static image some form of animation.
The login window is very similar to the one found in Windows for Workgroups 3.11. The title bar says "Welcome to Chicago Networking", but the instructions in the window still mention "Windows for Workgroups".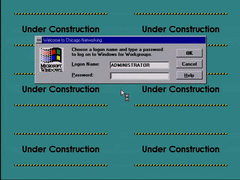 (PNG)
Program Manager items are converted for use in Chicago's new interface, as is ever so necessary for the large Windows 3.1x install base.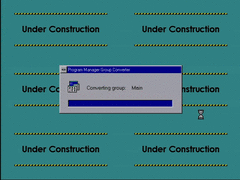 (PNG)
On the first boot, a printer setup and beta site tracker are opened. On every boot, this prominent "Under Construction" message shows up.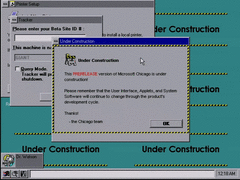 (PNG)
Similarly to Windows 3.1, programs are minimized to the bottom left corner of the desktop. In this early part of the transition from the Program Manager to Windows Explorer, the desktop can already be used for storing whatever items you like.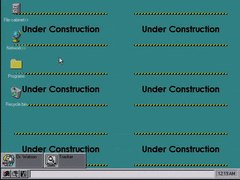 (PNG)
The "Start" button isn't really centralized into one convenient menu at this point. Instead, you have three buttons that serve different functions - the Windows button provides some essential functions, the second button allows you to access recently opened documents and other things, and the third with the question mark, very likely contains options for viewing the online help documentation (I haven't bothered to check, I was going through these builds too quickly).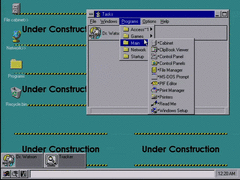 (PNG)
This build was unstable on my Pentium MMX computer, so much so that opening the file cabinet caused the computer to crash. I have a 486 I could've used instead, but I don't have enough good hardware for it. Third-party drivers could possibly have helped with the overall experience.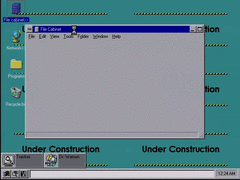 (PNG)
Rather than opening a window, Chicago 58s throws a blue screen asking you what to do with a program that stops responding.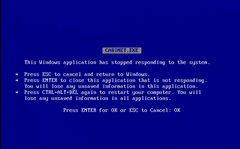 (PNG)
Pressing CTRL+ALT+DEL doesn't open a list of programs you can terminate, rather it shows this dialog box. Pressing CTRL+ALT+DEL and clicking OK is the only way to gracefully reboot Chicago 58s and similar builds, as the "Shutdown Windows" option in the Windows menu only provides you the option to shut down, sort of like Neptune.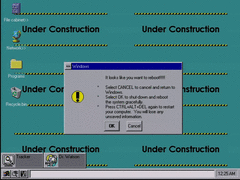 (PNG)
Pressing F8 doesn't provide a boot menu; instead, it follows the conventional MS-DOS procedure of prompting which lines in CONFIG.SYS and AUTOEXEC.BAT you want to load.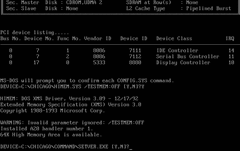 (PNG)
At this point, I installed build 73g, which will be covered shortly. Don't expect anything too comprehensive with the details of the interface in this batch of screenshots.
Author: ComputerHunter
I was trying to get this build of Chicago set up using Old Setup (SETUP31.EXE and OLDSETUP.INF) recently and there are 185 missing files. I managed to get Setup to finish all the way and boot into the newly installed Chicago with tons of errors but I think it is worth to have a few screenshots and videos about it here.
The first thing I have to say is this is not really Chicago 58s anymore, at least not visually. It looks more like Chicago build 3x-4x than 58s.
So here is the very first phase of Setup, looks exactly like Windows 3.x but re-branded as Chicago.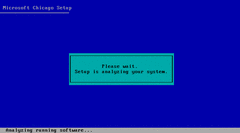 (PNG)
It still says Windows 3.1 here.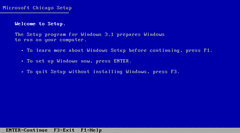 (PNG)
and fully re-branded as Chicago here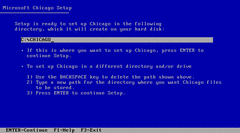 (PNG)
Hardware selection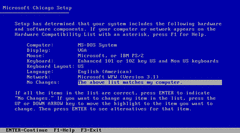 (PNG)
Copying files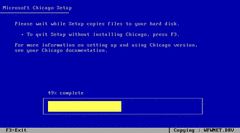 (PNG)
Finally, it asks for username! Well, it doesn't ask for organization. This feature was missing in 58s's normal Setup even though an unused dialogue exists.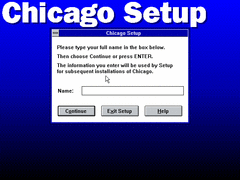 (PNG)
It creates a swap file that takes up all the free space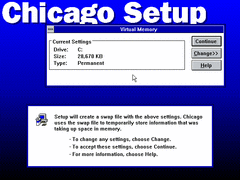 (PNG)
Copying files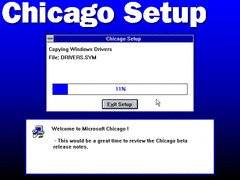 (PNG)
Setup finished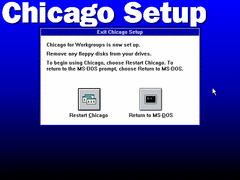 (PNG)
After a reboot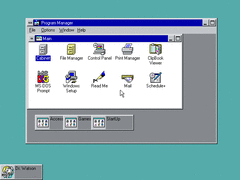 (PNG)
It is worth noting here that Tracker and Switch to Chicago are not even mentioned, only Dr. Watson was there in the StartUp group.
Components such as Mail and Schedule+ are installed by default using Old Setup
File Manager is named FILEMAN.EXE instead of WINFILE.EXE here.
TODO: Add more screenshots, info and explanations.