Chicago 468
Author: Kugee
Windows 95 build 468, the May Test Release. Setup is being run from within build 347.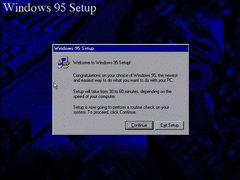 (PNG)
Most of the visual differences will mainly result from having Windows 95's window decorations in place of Windows 3.1's.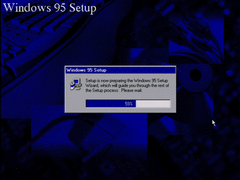 (PNG)
There's not much of an incentive to run Windows 95 setup in Windows 95 unless you're upgrading to a later build.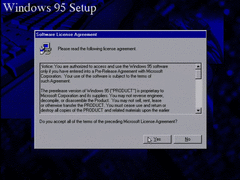 (PNG)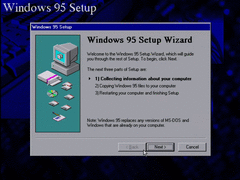 (PNG)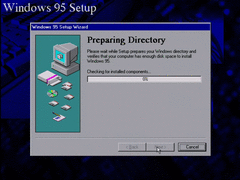 (PNG)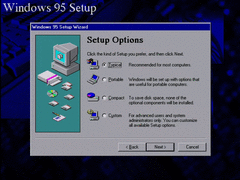 (PNG)
Instead of a beta site ID and password, the May Test Release asks for a CD key.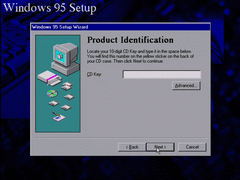 (PNG)
I recall seeing an old picture of someone running the Windows 95 April Test Release, but I can't find it right now.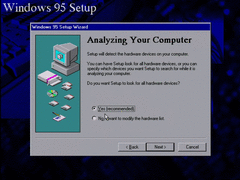 (PNG)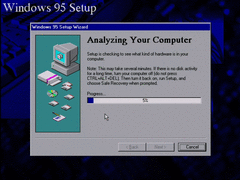 (PNG)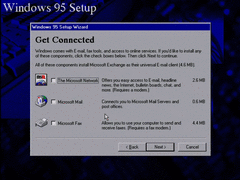 (PNG)
(PNG)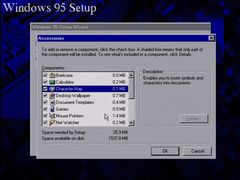 (PNG)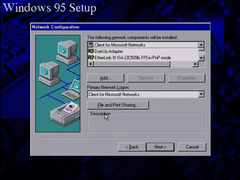 (PNG)
McDonald's will make you fat.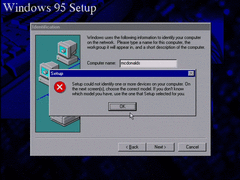 (PNG)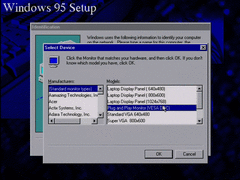 (PNG)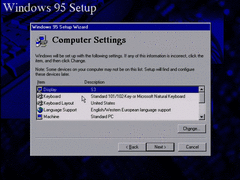 (PNG)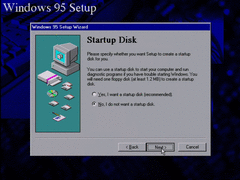 (PNG)
This set of banners uses a similar style to those seen in #memphis-1351 and the like.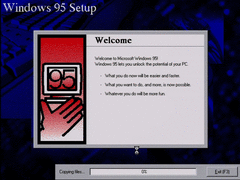 (PNG)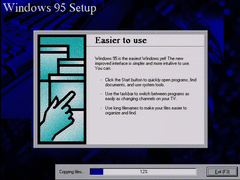 (PNG)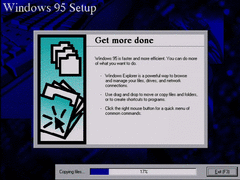 (PNG)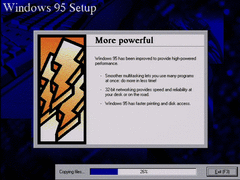 (PNG)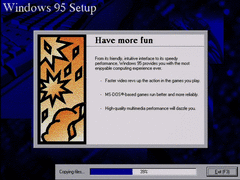 (PNG)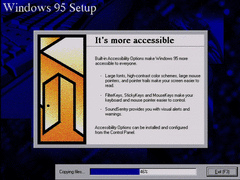 (PNG)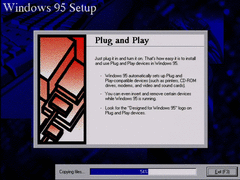 (PNG)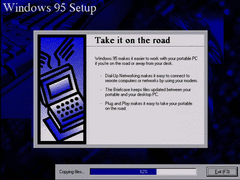 (PNG)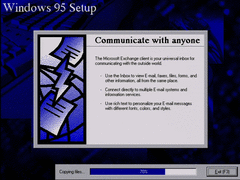 (PNG)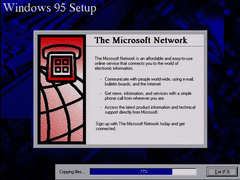 (PNG)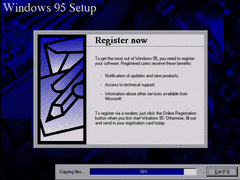 (PNG)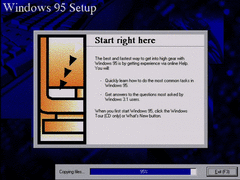 (PNG)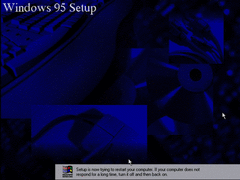 (PNG)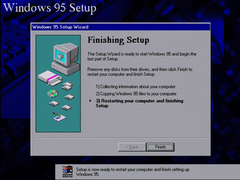 (PNG)
The first boot splash is now exactly the same as the final version.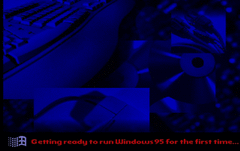 (PNG)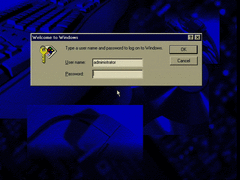 (PNG)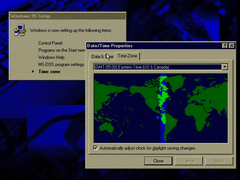 (PNG)
256 colors are back!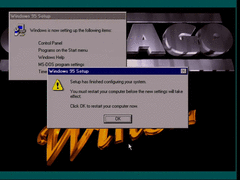 (PNG)
The splash screen for the May Test Release is pretty much the same as the final release, apart from the added text.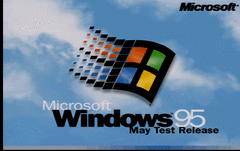 (PNG)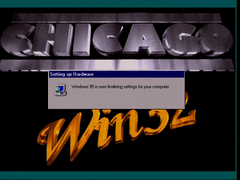 (PNG)
For whatever reason, my network card was being detected in legacy ISA and PnP mode back and forth.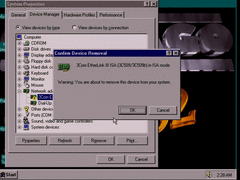 (PNG)
At this point, Windows 95 isn't even "Chicago" anymore, everything has been largely finalized and there are only minor differences between this build and 95A.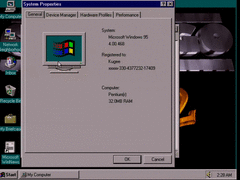 (PNG)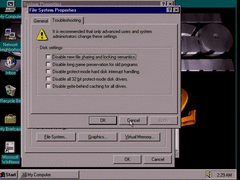 (PNG)
The May Test Release cooperates with my hardware better. I imagine earlier builds could've done the same if I tried harder.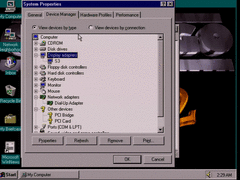 (PNG)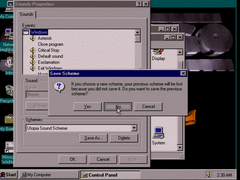 (PNG)
I'm pretty sure the S3 Refresh tab comes from my third-party driver.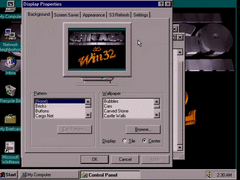 (PNG)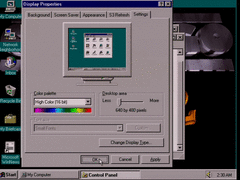 (PNG)
Network card detected correctly.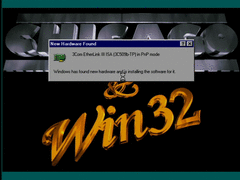 (PNG)
This build is missing some DirectX components. I assumed it had DirectX at all.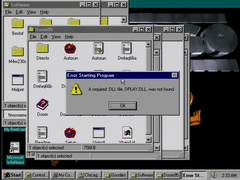 (PNG)
Release versions of DirectX refuse to install on non-final builds of Windows 95. There's probably a beta version of DirectX out there that I could've used with Doom 95.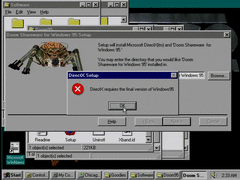 (PNG)
Typo? The final release says 1981-1995.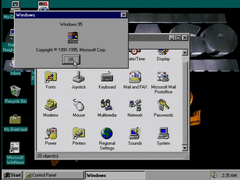 (PNG)
(PNG)
That concludes this batch of Chicago builds. I did learn a lot more than I was expecting to, and I'd like to come back around to covering more of Chicago's evolution on real hardware if I can learn how to install more builds in the proper way, as I had to skip some builds I downloaded since Setup failed to copy files from the build folders I put on one CD.
(PNG)
Rock on Chicago.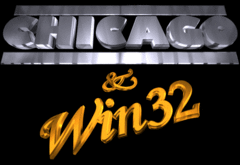 (PNG)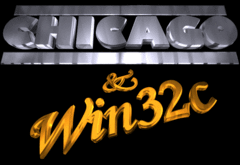 (PNG)